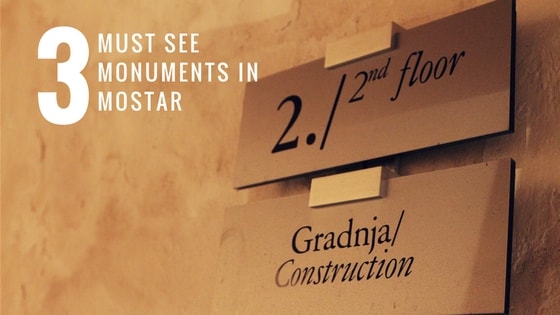 The Old Bridge is the most magnificent monument in Mostar and it has become the worldwide known symbol of Mostar but that is not all that this city has to offer.
Our rich cultural heritage and picturesque architecture can make your vacation unforgettable.
Tour Guide Mostar brings you 3 must see monuments to visit while visiting Mostar…
During the Ottoman rule in Herzegovina, the use of public baths (hammam) was common practice.
The Turkish public bath near the Tabačica mosque and the Tabhana area was built between the end of the 16th century and the beginning of the 17th century in the classical Ottoman architectural style.
It is the only Turkish bath still existing in Mostar and one of the few remaining examples in the whole of Herzegovina.
At the end of the Ottoman era, the Bath ceased to be used and, restored during the reconstruction of the historic centre, thanks to the aid of France and Turkey, it is nowadays used to host exhibitions and cultural events.
This one of a kind museum is opened for visitors every day from 10AM to 6PM.
It was built in 1965 in honor of the Yugoslav Partisans of Mostar who were killed during World War II in Yugoslavia. It's located on Bijeli Brijeg and displays all the features of a complex architectural, aesthetic and landscape design. It is a unique monument in the urban scale of the city of Mostar, and is of particular ambient value
At the initiative of Džemal Bijedić, the Serbian architect Bogdan Bogdanović designed this monument. The Municipal Assembly passed the decision in 1960 and was carried out by Mostar's Parks and Plantations Corporation.
Preparation for the cemetery began in October 1960 and on 25 September 1965, the 20th anniversary of the liberation of Mostar and the formation of the Mostar Battalion, it was opened by Josip Broz Tito.
There were all together 560 burials in this cemetery.
As one of the two towers that overlook the Old Bridge, in the medieval times the bridge keepers stayed in Tara tower while guarding the city.
These stone walls and narrow passages carry within the history and legacy of the magnificent Old Bridge.
This fifth floor of the museum reaches a lovely gazebo, standing at the highest point of the building which offers a 360° panoramic view of the Old Town and the city.
Looking down you can see thousands of visitors who walk the cobblestones of The Old Bridge every day.
PLACES TO VISIT WHILE INÂ HERZEGOVINA