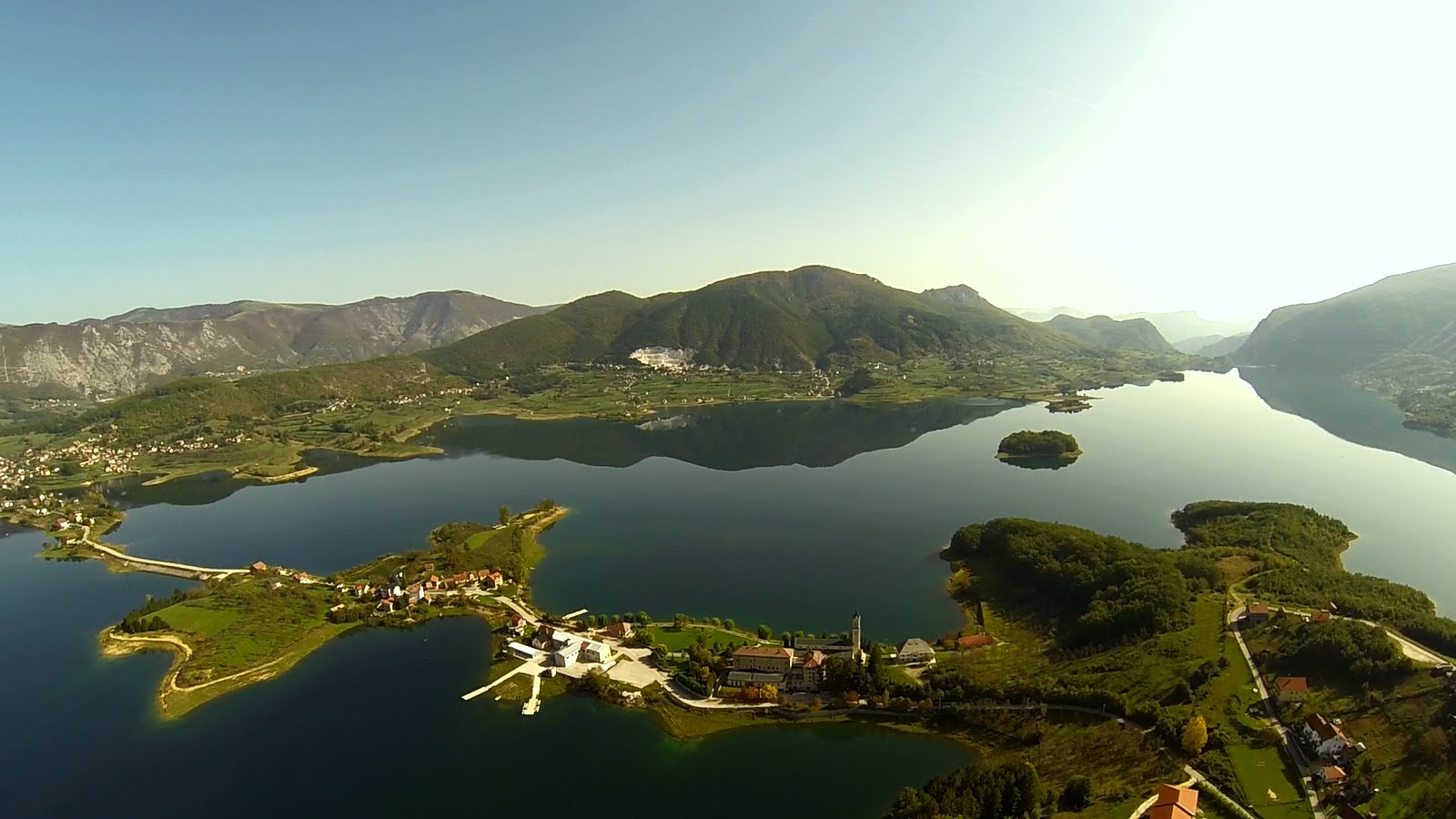 The Rama lake is an artificial lake located in the upper Rama valley on the north of Herzegovina. It was formed in 1968.
The lake looks amazing when it is full with the depth of the water along the dam from 70 to 100 meters.
The island Šćit and also two smaller islands Umac and Škarine break up the uniformity of the water surface and beautify the ambience of the Rama Lake and its surroundings.
The temperature of the lake is around 7,5°C, but the surface quickly  warms up for swimmers who are there when the lake is accessible and full.
Prozor and Ramsko Lake are the northernmost points in Herzegovina.
On the island Šćit, the House of Peace at the Franciscan monastery Rama-Scit welcomes guests who are looking for peace and quiet, a bit of counseling or just a day of fishing on the lake.
This place is run by the Franciscan monks who live there year round. In this monastery, the partisans prepared themselves for their counter-offensive in the Second World War's Battle of the Neretva. The area is lush and green and offers great fishing, boating, walking and hiking and an interesting look at village life in the surrounding hills. If you want peace and quiet, look no further – Ramsko Lake will meet your needs.
The local villagers are very kind and getting off into the hills you'll find fascinating Catholic villages where women still dress in traditional attire and practice the ancient ritual of tattooing crosses on their hands, arms and even foreheads.
Prozor to the east of Ramsko Lake is a small mountain town with not much more to do than walk around and check out life in a small town. Pass the Nuhefendica Mosque (Carsijska Mosgue), and you'll see the sahat kula (Clock Tower) from 1700. The clock did not have hands, so noon used to be signalled by striking bells. Just down the road from Prozor is the village of Duge, meaning Rainbow.
Duge is blessed with an immense water supply and a powerful waterfall called Duge Falls. It is called Rainbow because as the water plummets over 30m to the rocks below the mist mixes with the rays of the sun and almost always creates a rainbow.
This area is another stunning example of all the beauties of Herzegovina, in case you have missed it, read our previous story – Useful tips for stress-free vacation in Herzegovina.