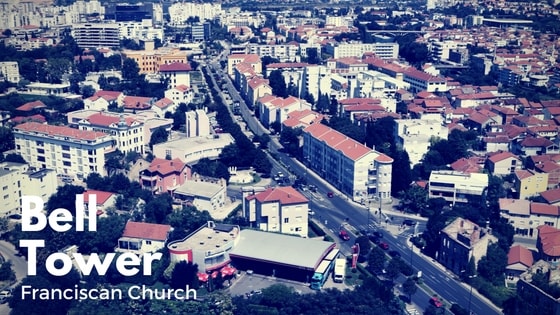 The Catholic Church of St.Peter and Paul and the Franciscan monastery in Mostar were built in 1866 while the region was under the rule of the Ottoman Empire.
The Friars and constantly working on the development of the facilities located next to the church and within the church.
Yesterday's event marked the formal commissioning of the elevator and the viewpoint on the bell tower of the church of St. Peter and Paul. The tower is locally called "tower of peace".
People from Mostar and many visitors who are increasingly visiting our city, from today can visit the viewpoint and the tower of the Franciscan church in order to see the city from the height of 80 meters, and through four large windows (3×3 meters).
The friar Iko Skoko, the creator of this idea and project, considers this bell tower as a sign of peace in Mostar and finds that it will send a message about peace and co-existence.
This bell tower is the largest buildings in the city with its 107 m height.
With the opening of the viewpoint, the first phase of renovation of the bell tower is completed.  The second phase will consist of arranging the International Gallery of peace, and the third includes Education Centre.
The whole complex of the Church of St. Peter and Paul boasts a library with 50,000 ancient Western and Eastern scripts and books. It is the largest library of its kind in Herzegovina and the region. The monastery can also find paintings by Italian masters from the XVI. And XVII. century, and the works of modern artists.