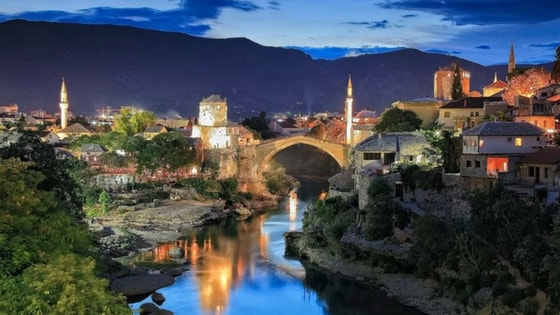 The Balkans Peninsula covers a good part of Europe and is one of the oldest settlements in the continent. This historic and scenic area has something for everyone's taste – from ancient cities and buildings to luxurious resorts and untouched nature.
Let`s not focus on Turkey, Croatia and Greece all of which have been on the tourist radar for years.
This summer Balkan`s hottest emerging destination is the city of Mostar, situated on the south of Bosnia and Herzegovina.
Tour Guide Mostar team counts down five reasons why you should visit Mostar as your next vacation destination…
Delicious food and drink
The gastronomy in Bosnia and Herzegovina developed under the influence of East and West. The most famous meal is the ćevapi. These delicious meat rolls are usually served on a plate with flatbread (lepinje or somun), often with chopped onions, sour cream, kajmak, ajvar, feta cheese, minced red pepper and salt.
In case you have missed it, read our previous post – 5 Best restaurants in Mostar according to TripAdvisor.
Picturesque architecture
The rule of Ottoman and Austro-Hungarian period left a unique blend of cultures in Mostar. If you enjoy photography, every day you can stroll down the cobblestone streets in Mostar and learn about the history. Be sure to visit the magnificent Koski Mehmed Pasha Mosque, Karađoz Bey Mosque as well as the Turkih hammam and the Old Bridge Museum.
The Old Bridge
The Old Bridge in Mostar is a part of the historic Old Town and it was designed by the renowned Turkish architect Sinan. The Old Bridge area, with its pre-Ottoman, eastern Ottoman, Mediterranean and western European architectural features, is an outstanding example of a multicultural urban settlement. The Old Bridge was originally built in 1566, and fully reconstructed in 2004.
Old Bridge jumping traditional annual competition in diving organized every year at end of July. It is traditional for the young men of the town to leap from the bridge into the Neretva. The practice dates back to the time the bridge was built, but the first recorded instance of someone diving off the bridge is from 1664. In 1968 a formal diving competition was inaugurated and held every summer.
Street art in Mostar
This city is full of historic landscapes, architecture wonders and enviable works of art. Street Arts Festival Mostar gives space to international artists to express their artistic creativity in various kinds of arts. In this way Mostar is connected to the world and participates in the process of creating urban culture.