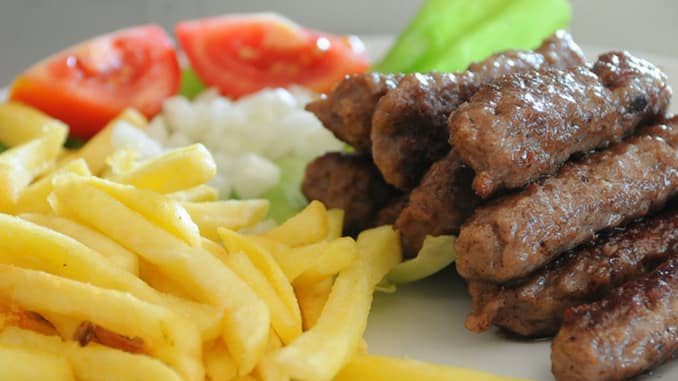 Are you coming to Mostar this summer?  If you are then we have some useful tips for you. The Trip Advisor website has become an essential reference point for anyone who is planning their vacation. We have gathered info about 5 best restaurants in Mostar according to the customer reviews and having the Certificate of Excellence on Trip Advisor.
So where do dine and wine in Mostar?
With more than 30 years of tradition, the Čevabđinica Tima  Irma is a favorite place for the locals as well as the tourists from all over the world who posted 381 reviews about it on Trip Advisor. The friendly and cheerful owner Irma welcomes each customer with regards on many languages. The meat platter is something you should definitely order and also if you have time do not miss out on trying the chicken and the veal chop, čevapi in somun and cold salads.
The Šadrvan restaurant is located just a few meters from the iconic Old Bridge. This restaurant has years of tradition and quality behind them, guarantees a gourmet pleasure. On the entrance visitors are welcomed by kind young women dressed in traditional ethnic clothes and outfits. The menu offers a selection of dishes, which are prepared following the domestic recepies and a selection of wines from various wine yards from Herzegovina, which will replenish your soul after a good meal.
The Hindin Han restaurant has 438 customer reviews on Trip Advisor. The place is located about fifty meters from the Old Bridge with a view on the Neretva river. The meat platter with mushrooms is one of the most popular dishes, as well as the squids from the barbecue.
The Taurus Konoba is located in the heart of the Old Town of Mostar, next to the Kriva Čuprija. It has 156 reviews on Trip Advisor. According to the reviews, the most popular meals are stuffed wine leaves, sea bass and of course the Čevapi in somun.
The Lagero restaurant has 78 customer reviews. This place offers the most amazing view on the Old Bridge and the streets of Old Town from the patio while you are dinning. The menu also offers vegetarian meals as well as a wide selection of domestic wines and natural fruit juices.