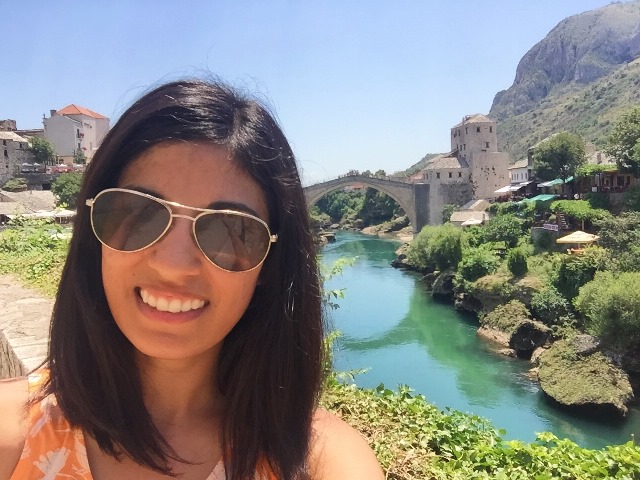 Did you know that there are currently 273,087,955 photos with #selfie on Instagram. And that number keeps getting bigger every day as the selfie obsession has become a worldwide trend.
When coming to Mostar, be ready to enjoy the historic architecture, green landscapes, clear waters of Neretva river and meeting friendly people. In case you have missed it, read our previous story Mostar mini travel guide.
Make you own memories, go ahead and explore. Try these 5 things and enjoy your stay in Mostar.
Tour Guide Mostar brings you best places to take a perfect selfie in Mostar…
Old Bridge
The Old Bridge is worldwide known symbol of Mostar and when searching images of Mostar on internet, the picture of Old Bridge always comes first. This unique place of historical significance attracts tourists with its magnificent arch, stone walls and cobblestone pathways called kaldrma. Take a selfie with the stone walls of Tara or Halebija towers behind you.
Beach under the Old Bridge
After taking photos of the Old Town and selfies from the Old Bridge, do not miss going down to the beach under the Old Bridge. You can sit by the Neretva river, enjoy the sounds of guitar and soak your feet into the river. Look behind you at the Old Bridge and take selfies.
Minaret of Koski Mehmed Pasha Mosque
The iconic Koski Mehmed Pasha Mosque welcomes hundreds of tourists each day. The entrance leads to the beautiful courtyard where you can enjoy colorful garden, shops, restaurant and Å adrvan fountain. Read more about the history behind the picturesque Å adrvan in our previous post. The most beautiful panoramic view of the city can be seen after climbing the narrow stairs of minaret in Koski Mehmed Pasha Mosque. The view points directly to the Old Town and the Old Bridge so you can see from above all the tourists that are admiring the architecture of the bridge. Turn around a take the best selfies with Old Bridge behind you in the distance.