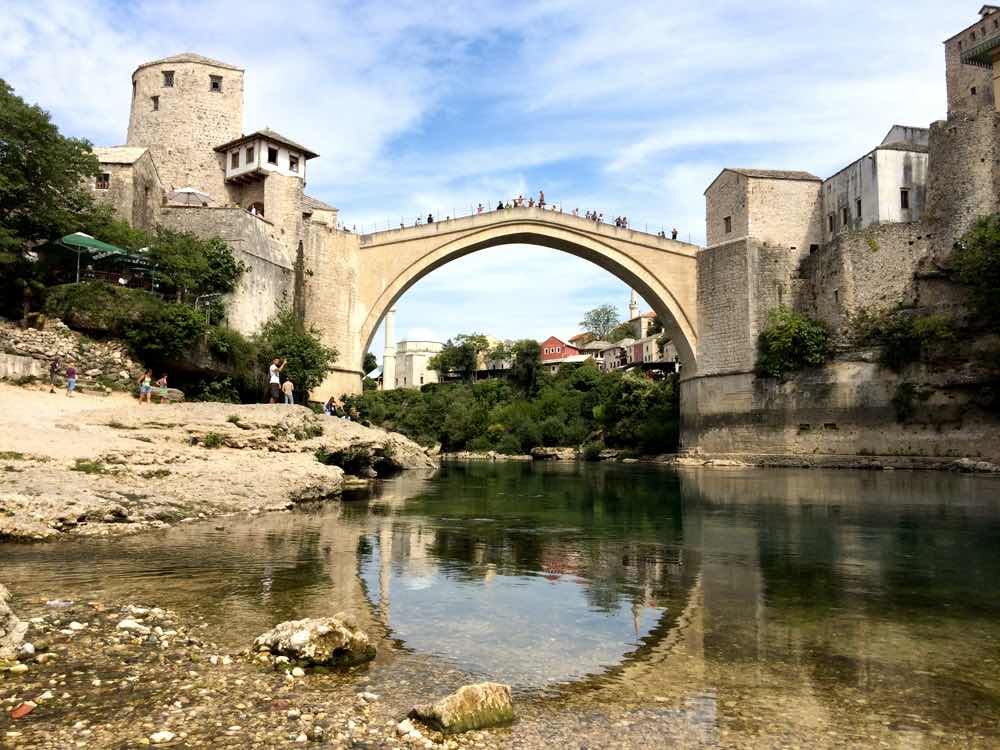 Mostar location
Mostar is located just inland from the Adriatic coast. It's the cultural capital of the Herzegovina region, in the southeast part of Bosnia & Herzegovina.
How to get to Mostar
Even though it has an international airport, with most of its direct flights to Croatia and Italy, the best way to get to Mostar is by road. If you're coming from Croatia, take the highway 62, just a bit up the Makarska riviera.
Additionally, buses run daily in summer months mostly from Dubrovnik (check schedules here), but also from Split and Makarska, at least.
How to find accommodation in Mostar
It is easy  to find high-end apartments, hostels and guesthouses at laughable prices. We ended up applying more search filters than usually  in Booking.com: wifi included, terrace with a view, centrally-located and with 9+ review score. It was still less than 12EUR per person. You can use this exact same search query using this link.
Do not miss in Mostar
Obviously the Stari Most. We also really recommend a walk farther out of the Old Town to the war front line. It's a completely different setting that will make you look at Mostar with other eyes.
The currency in Mostar
The official currency in Bosnia is Bosnian Convertible Marks (BAM). However, in most places you can pay with euros as long as you agree to their very decent own conversion rate (1 Euro = 2 Bosnian Marks).
WHAT TO BUY
The are many interesting gifts and souvenirs from Mostar which you can take home. Colorful handmade jewelry, copper etchings and diches, oriental carpets and rugs, colorful lanterns and art work; these are just a few shopping delights which you can buy in Mostar. In case you have missed it, red our previous post -. What to buy in Mostar?
Other places to go around Mostar
If you do have more time, look into visiting the medieval town of Pocitelj , the holy site of Blagaj Tekke or our favourite: the Kravice waterfalls.