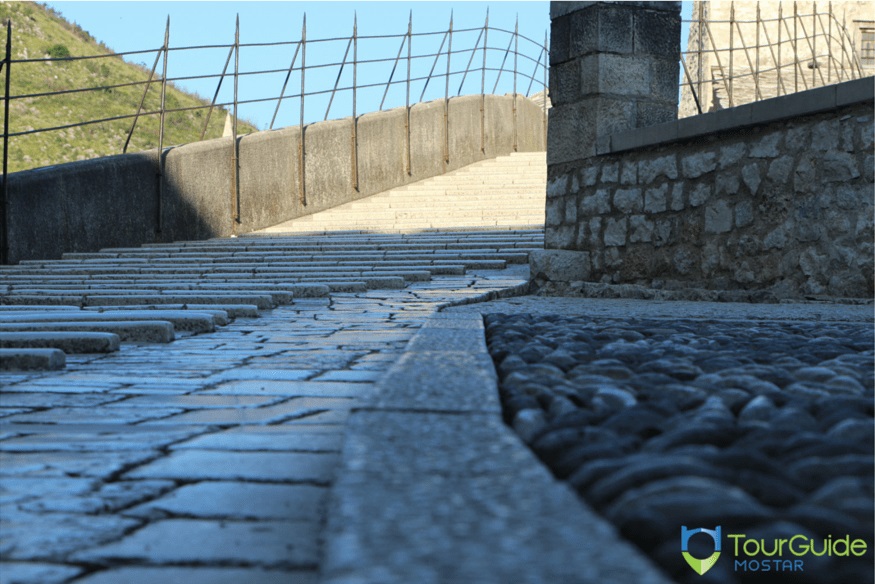 The Old Bridge is the most magnificent monument in Mostar and it has become the worldwide known symbol of Mostar.
This truly a one of a kind architecture master piece was built back in 1566. during the Ottoman rule, and it was surrounded by several towers, mosques, restaurants and numerous craft workshops.
Even today this well preserved oriental part of the town attracts not only tourist but also artists, poets and other travellers who wish to come back and enjoy its uniqueness.
Today thousands of visitors walk through the streets of ÄŒarÅ¡ija (market place) and spend time taking photographs and admiring the cobblestone pathway which spreads all across the Old Town and on the Old Bridge. These stones are locally called kaldrma. In the books, Mostar is sometimes referred to as being "a town of stone on stone". In case you have missed it, read our previous post Walking in Heels, Instruction Guide to Conquer Mostar's Cobblestones.
During the reconstruction of the bridge, several kinds of mortars were used to build kaldrma – dark red mort and pink mort. This kind of construction had the task of preventing the water penetration into the elements of the bridge and also to make the crossing of the bridge easier for the merchants and their animals.
Dark red mortar (or so called Turkish isolation) is located directly above the stone slabs recess bridge and above the stone elements of the arch. The task of this layer is to take over the load of cobbles and the pedestrian traffic on it, in order to prevent water from entering the elements of the bridge. The cobble stones of the bridge were submerged in pink mortar that fills in the joints between the stone blocks. It is intended to stiffen the pavement and prevent water from entering.
The dark red mort was made of the following components: traditional lime paste obtained from the town of SukoÅ¡an near Zadar; Terra rossa , red earth from Gradnići in ÄŒitluk, which was added for color and pozzolanic properties; Bauxite found on Žovnica near Mostar was used solely as a pigment; broken bricks "IGM"; crushed aggregate "IN KA".
The pink mort was made from the following: lime paste as a binder; broken bricks; stone dust "IGM" from Posušje; crushed aggregate for the filling.
This kind of picturesque stones and streets make Mostar even more unique in its diversity.  Keeping all of these facts in mind, female tourists who come to Mostar shouldn't wear high heels when visiting the Old Town. Ladies stay safe and enjoy your stay in Mostar.