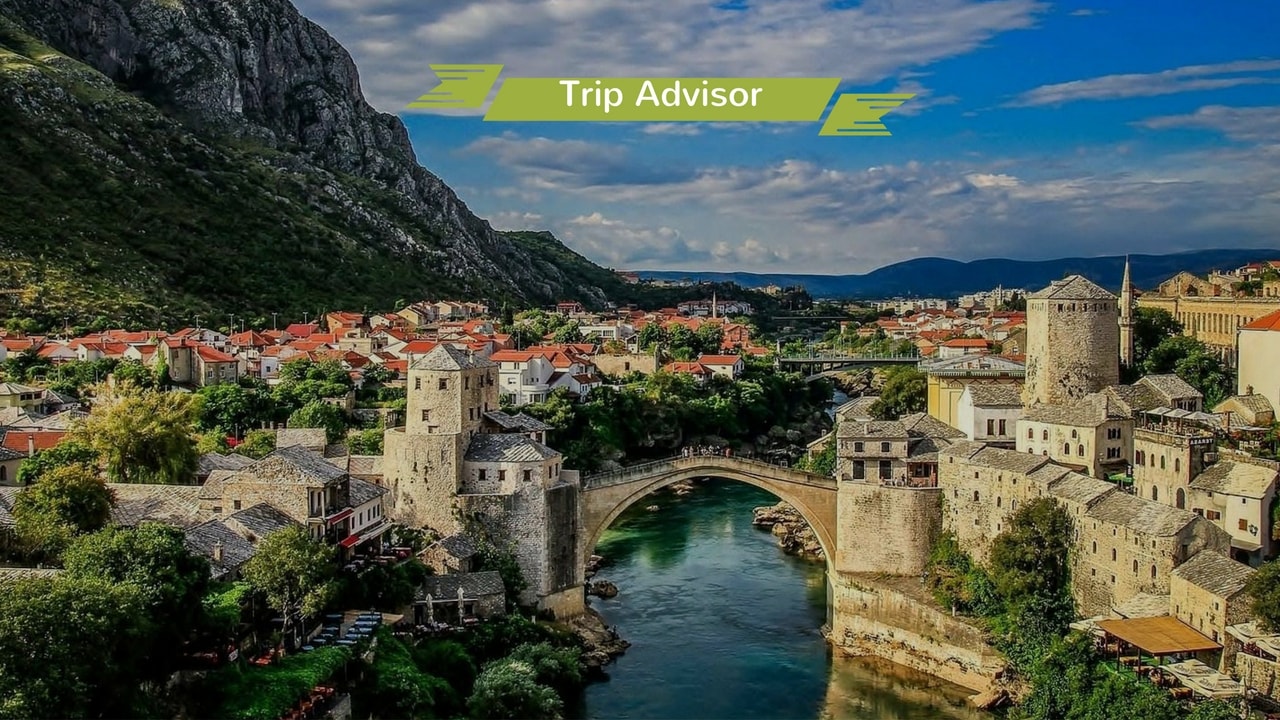 When traveling around the world you might always be surprised both pleasantly and unpleasantly about different traditions and lifestyle in other countries.
Luckily finding relevant information about your next vacation destination is made quite easy today. Simply check the TripAdvisor website which has become an essential reference point for anyone who is planning their vacation.
In case you have missed it read our previous posts about 5 Best restaurants in Mostar according to TripAdvisor and Top 5 hotels in Mostar according to Trip Advisor.
TripAdvisor gathers reviews and comments from travelers of all around the world. Tour Guide Mostar team brings the most interesting comments and reviews from people who visited Mostar.
The biggest attraction is of course the Old Bridge, which has about 1,885 reviews and it is rated as the number 1 of 50 things to do in Mostar.
Visitor from Romania stated:
"Walking in the Stari Most area is a delight! It is an area with great history and many craft shops and local specific products, especially as there is very close and some mosques that can be visited! There are many tourists, restaurants, shops, sellers of sweets and ice cream … You really must visit the mosque in the courtyard of which is a fountain with good water and cold! There are many youth and their youthful energy creates a good feeling. You can eat very well with reasonable prices, near the Neretva River, with a splendid view of the bridge! Green Neretva river creates a real relaxation and good vibes! There are few men that plunges off a bridge into the river … it is a show!"
The clear waters of Neretva river is also listed as a must see attraction, in case you have missed it, ready our previous story about Neretva, Turquoise River flowing through Mostar.
Traveler from Nazareth in Israel stated: "Breathtaking, seems that it was kept the way God created it, untouched by human hand, emerald colored water. Certainly one of the nicest rivers I had seen."
Considering the restaurants in Mostar, the food lovers from all over the world state that the food in National Restaurant Cevabdzinica Tima – Irma is the best.
"We arrived late at night for two days trip in Mostar. After midnight Tima Irma place was still open…one of the last place serving food and opening that late.We really enjoyed our first cevapcici plate ..Nice food, cheap price…and the most important : a local place where local People make you feel welcome.Thank you so much Irma for being so kind and for sharing through your smile the mostar mind. We had few local beers and last ones as an unexpected gift.You deserve your golden place on trip Advisor Hope you will keep your rank.This place is highly recommended! !!! Do not miss it.Thanks again Irma ( Nelly from The frenchie People team.)"
We conclude that the city of Mostar has to offer something for everybody's taste – from the delicious gastronomy offer to historic sites, cobblestone streets and places of untouched nature as Neretva river.