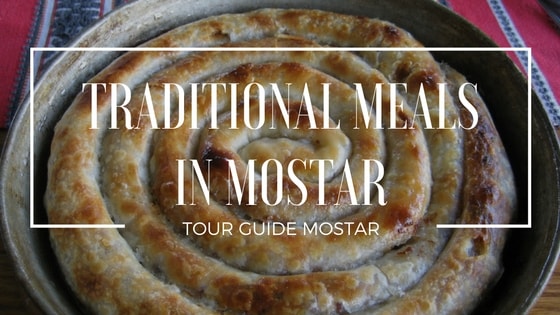 The land of Bosnia and Herzegovina is an unique mixture of different cultures and civilizations.
Tour Guide Mostar team brings the story about best traditional meals in Mostar.
What to eat while visiting Mostar?
The countries favorite meal are ćevapi (chevaps) which are small grilled meat sausages made of lamb and beef.  Ćevapi has its origins in the Balkans during the Ottoman period, and represents a regional specialty similar to the kofte kebab.
How are ćevapi served? There are popular restaurants called ćevabdžinice which are specialized in serving and preparing ćevapi. These delicious meat rolls are usually served of 5–10 pieces on a plate or in a flatbread (lepinje or somun), often with chopped onions, sour cream, kajmak, ajvar, feta cheese, minced red pepper and salt. In case you have missed it, read our previous story – Let's eat ćevapi!
The next thing you should eat in Mostar is burek, a meat filled pastry which is traditionally rolled in spiral and cut into sections for serving. The taste of burek will satisfy the taste buds of the biggest food lovers.
And let`s not forget sarma which is made of meat and rice rolled into cabbage leaves. This meal is traditionally made during the winter season as well as for the holidays such as Bajram and Christmas.
Check out our video below and have a taste of Mostar!