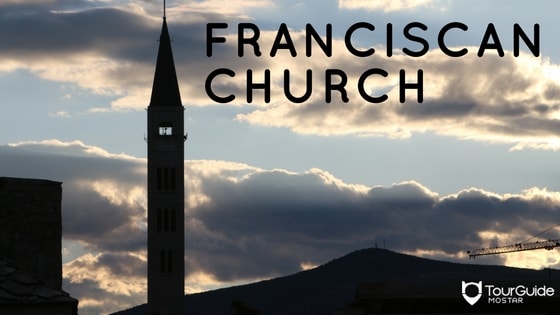 Today the Catholic Church and the Franciscan Monastery in Mostar stand together as one the most beautiful architecture examples.
Originally this complex was built in 1866. during the Ottoman rule. In case you have missed it, see our previous post about the history behind the Catholic Church and the Franciscan Monastery in Mostar.
The Catholic Bishop Barišić sent a thank you letter to the Sultan Abdülaziz for the construction of the church in Mostar and the records show it was written on 15th November 1864.
According to the letter, the Padishah generously allowed the Catholic people to build a church with a garden. Bishop Barišić wanted to go to Istanbul so that he could personally thank the Sultan, but due to his disease, he was prevented from going. He lived to see the beginning of the construction, when the Italian architect and Franciscan Matteo Lorenzoni begin building the branches of the Church of St. Peter and Paul. The monitoring of the construction was continued by his successor, Fr. Petar Bakula.
During the first seven months of the construction, the exterior walls were built on the foundation of a network of affiliated oak logs. The whole construction was completed in 1875. while many years later, in 1932. the clock was placed on the bell tower and restorations were made to the outside of the church. In the Second World War the church was badly damaged during the bombing.
Another reconstruction of the church was completed in 1988 by placing stone statues of St. Peter and St. Paul.
Today's church with its dimensions, appearance and the bell tower (107m high), dominates the city of Mostar. Due to the increased number of catholic community in Mostar, there was the need for larger church so during the latest reconstruction in 2000., the new church was built on old foundations but following the tendency of massiveness from the Middle Ages.
Now visitors can enter the church, take photographs and enjoy the singing of the church assembly. There is also a large parking lot in front of the church, which serves for visitors and tourist groups.