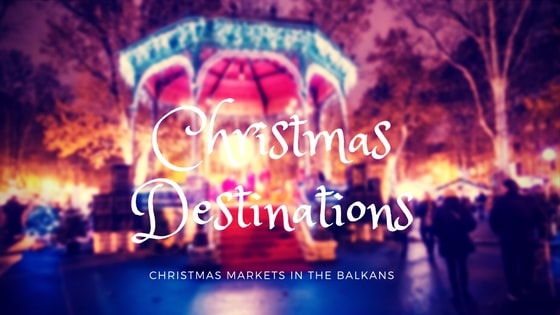 Christmas time is coming and there is no better time than Christmas to visit Europe! If you are looking for a memorable Christmas experience at an affordable price then countries in the Balkans are best destinations for you! Central Europe is always more popular as holiday destination compared to Eastern Europe but is often overcrowded during these days.
Whether you are a solo traveler or traveling with family and friends this is the best time to meet a new culture and holiday traditions at its most festive time.
Even the greatest of Grinches have to admit: These 9 cities, with their sparkle and cheer, can make the heart grow three sizes larger.
Zagreb, Croatia
Why go
If you are into Christmas markets, you might read that Zagreb was declared as being the most beautiful Christmas market in Europe. When you reach Zagreb and start exploring its city center, you will realize Zagreb was important city already years back. Everything looks even more beautiful during its Christmas market.  A nice place to wander and stop for some Christmas goodies is also Zrinjevac, offering lots of stands with food and drinks to warm you during the cold winter days. In the middle of the stands, you will also find Santa's home. If you like ice-skating, you also have to stop at King Tomislav Park – right opposite the main railway station. The Ice Park is really beautifully done, offering fun for all ages.
Ljubljana, Slovenia
Why go
The first thought you will have: It's like Paris. The lights reflecting off the river running through the old center of town, people out, even in the cardigan chill, sitting bankside beneath old five- and six-story masonry façades, sipping warm drinks, eating their slices of cake slowly to extend their lease on the table. It is a lively atmosphere with children's choirs putting on concerts and a band getting the crowd dancing. An ice skating rink in Kongresni Trg Square adds to the winter charm. Public transport will run, but not so often and if you wish to travel around especially with family, the best advice is to rent a car. You can visit Christmas Market in Ljubljana or Postojna Cave.
Sarajevo, Bosnia and Herzegovina
Why go
The country is well known for host people from 3 different religions. What happens in a moment of an important celebration in Europe as is Christmas? Bosnia and Herzegovina is probably the most multicultural country in Europe with three big religions living inside of one country: Muslims, Orthodox, and Catholics. With a Santa's Village and Children's playground set up just for the market, this is a great place to bring children to experience the holidays. Visitors can also take in local crafts, organic food, and plenty of beverages!
Tirana, Albania
Why go
Expats in Albania enjoy their own Christmas traditions. Foreigners living in Albania may put up a tree for Christmas, have others over to their homes for the day, and bake sweets they are used to having for the holidays. Even though Christmas is a quieter time of year in Albania than in the West, those who crave the lights and festive mood that Christmas usually elicits can get their fill on New Year's Eve. The Christmas tree on Tirana's main square and the fireworks display at night help to mark the day.
Mostar, Bosnia and Herzegovina
Why go
The winter magic will begin on  November 26th and it lasts until January 8th, 2017. All visitors will be able to enjoy a great variety of over 60 different exhibitors. In a variety of content, entertaining programs will be organized into two stages.  Visitors will be able to enjoy school plays, performances by children's bands, dance choreography, magic tricks and the inevitable Santa Claus will also be there, donating the visitors from his chariot. Mostar is the best choice for those who want to spend their Christmas in one of the sunniest places in Europe.
Athens, Greece
Why go
Greece brightens up as Christmas approaches, from the mainland to the islands, Greek Christmas traditions remain a deep-rooted part of the culture. During December, people are out shopping for gifts, decorating their homes and preparing for family feasts. The heart of the city is Syntagma Square and it's where the city's Christmas tree is lit. The square's trees are strung with blue and white lights (the holiday colors of Greece) or with decorations such as karavakia (small Christmas ships).
Sofia, Bulgaria
Why go
Unusual for an Orthodox country, Bulgaria celebrates Christmas on December 25th, with the biggest and best celebrations reserved for Christmas Eve. Santa Claus goes by Dyado Koleda , or Grandfather Christmas, and arrives accompanied by his granddaughter Snegurochka, the Snow Maiden. Sofia residents gather on Christmas Eve for a multi-course feast, traditionally hosted by the family matriarch. Meat, cheese, and dairy are avoided during a 40-day fast leading up to Christmas in order to purify the body and soul, so expect tasty vegetarian dishes such as pumpkin cake and bean stews.
Dubrovnik, Croatia
Why go
It is a time when the whole city glows in the warmth of decorations, carols echo, the aroma of festive specialties fill the air; all under a blanket of a thousand twinkling lights, Christmas in Dubrovnik is a magical time. And Christmas 2017 in Dubrovnik has plenty of gifts under the Christmas tree for everyone.
Sibiu, Romania
Why go
As always, this Christmas market is set in Sibiu's awe-inspiring Grand Square (Piata Mare), in the heart of the city, and that's probably a big part of its charm. Being surrounded by such magnificent Baroque architecture, makes you feel like you stepped back in time into a smaller, cozier Vienna. Cheerful and full of color, the stalls present a huge variety of merchandise, from Christmas decorations, roasted almonds, and mulled wine to traditional handmade products such as leather good jewelries, fur hats, and much more.