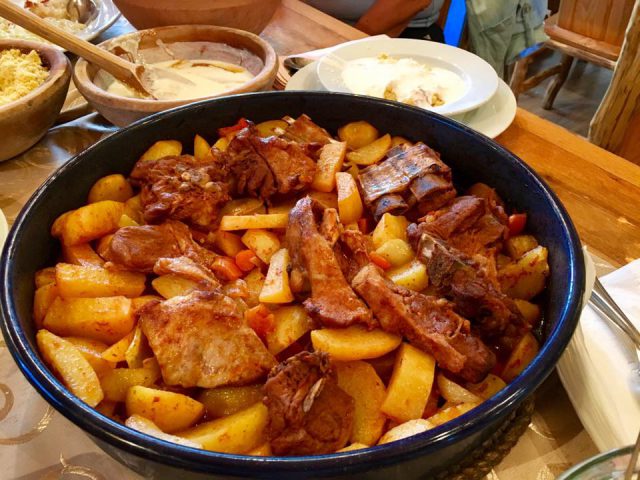 Another December is here and that means that the festive activities in the historic city of Mostar will soon begin.
For most people Christmas is their favorite holiday. But what puts us in the cheerful Christmas mood?
Most of us will say it's the traditional homemade meals which take us back to our childhood memories with their warm smell and delicious taste.
Tour Guide Mostar brings the list of most loved Christmas meals in Bosnia and Herzegovina…
Sarma
Sarma is a traditional dish made from cabbage leaves, minced meat and rice.
Sarma is cooked by using sour cabbage leaves, ground meat, rice and seasonings. Sarma rolls are slowly simmered for a long time in large pots with lard and layers of smoked pork, seasoned with vegetable seasoning, bay leaves and paprika. Some family recipes include finishing sarma by baking it in an oven which gives it distinctive flavor. Sarma is one of the staple meals for festive occasions like Christmas, New Year, Easter and birthdays.
Burek
One of the favorite meals is burek, a meat filled pastry which is traditionally rolled in spiral and cut into sections for serving. Burek is the food you eat for breakfast, lunch, dinner or just as a snack.
So how to make burek?
For the dough you need the following ingredients: plain flour, salt, water and vegetable oil.  For the meat filling the following ingredients are needed: oil, onions, beef mince, potato, clove garlic, rosemary, smoked paprika and salt.
Burek is baked in the preheated oven until golden brown. Some people like to eat burek while its hot and combine it with yoghurt.
Japrak
The meal japrak originates from Lebanon, Palestine and Syria. Japrak rolles are prepared with collards and minced meat. Collards are globally considered to be among the healthiest foods and for a reason – they are low-calorie, also rich in vitamins and minerals.
Collards give meat a specific aroma and this is one of the traditional meals in Bosnia and Herzegovina. In Herzegovina, winter is not winter if there is no collard greens and smoked meat.
Christmas roast
For traditional Christmas lunch includes a roasted turkey, veal or lamb. While vegetarians will find replacement solutions, the turkey will be prepared in hundreds of ways. For every housewife still has secrets to prepare the roast. Some secrets are passed on from generation to generation.
To remain juicy turkey should be prepared before baking. The day before, roll it into a solution of salt or just a good rub with salt and butter, and leave it overnight. If you like intense flavors, make a mixture of honey, thyme, salt and melted butter. This will mix during baking to keep the moisture of the meat and the crust will be golden and crispy.
In some families, the turkey is filled, and the filling depends on the imagination of the host. It can be made from offal mixed with bread, onions and bacon, and chestnuts, leeks and bread crumbs.