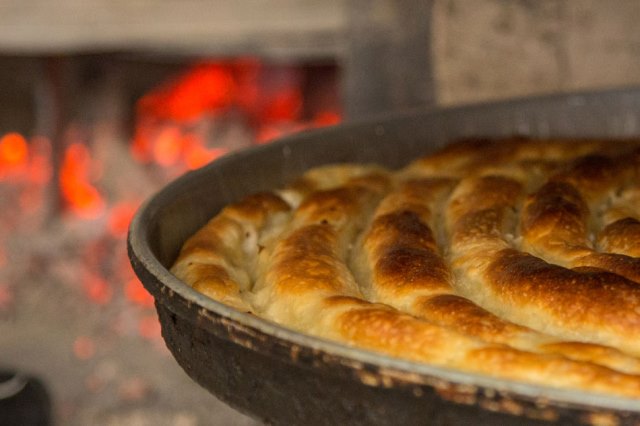 The land of Bosnia and Herzegovina is a unique mixture of different cultures and civilizations.
Traditional food in Bosnia and Herzegovina is often prepared with meat, and meals are plentiful and delicious. The meat is of extraordinary quality, often organic, and well prepared. Meat is the ingredient of some of the most popular Bosnian dishes such as Bosnian pot, ćevapi, Bey soup, burek, and bean soup.
One of the favorite meals is burek, a meat filled pastry which is traditionally rolled in spiral and cut into sections for serving.
Burek is the food you eat for breakfast, lunch, dinner or just as a snack.
So how to make burek?
For the dough you need the following ingredients: plain flour, salt, water and
vegetable oil.  For the meat filling the following ingredients are needed:
oil, onions, beef mince, potato, clove garlic, rosemary, smoked paprika and salt.
Heat the oil in a large frying pan over medium heat. Sauté the onion until soft. Add the beef mince and cook by stirring constantly. Add the potato, garlic, rosemary and paprika and keep mixing until the beef is cooked all the way through. Add salt. Place the meat mixture into a fine sieve and set it over a large bowl or the sink, to allow any liquids to drain. Gently press it down with the back of a large spoon to speed up the draining. The mixture needs to be dry and completely cooled.
Place the flour and salt into a large mixing bowl. Gradually add the water a little at a time, mixing with your hand, until the dough comes together. You may not need all of the water. Knead the dough for about 5 minutes until soft and elastic. Divide into four and flatten to about 2½ cm or an inch.
Unroll phyllo pastry and transfer 2 sheets to a work surface; stack sheets. Spoon 1/8th of the ground meat mixture down one long edge of the phyllo pastry. Roll phyllo into a tube, encasing beef. Shape the tube into a coil (snail shape). Place the roll on an ungreased baking sheet; brush with melted butter. Repeat, placing finished rolls up against one another to keep them from unrolling.
Bake burek in the preheated oven until golden brown, 20 to 30 minutes.
And that`s how it is done!
In case you have missed it, read our previous post – Best Traditional Meals in Mostar.