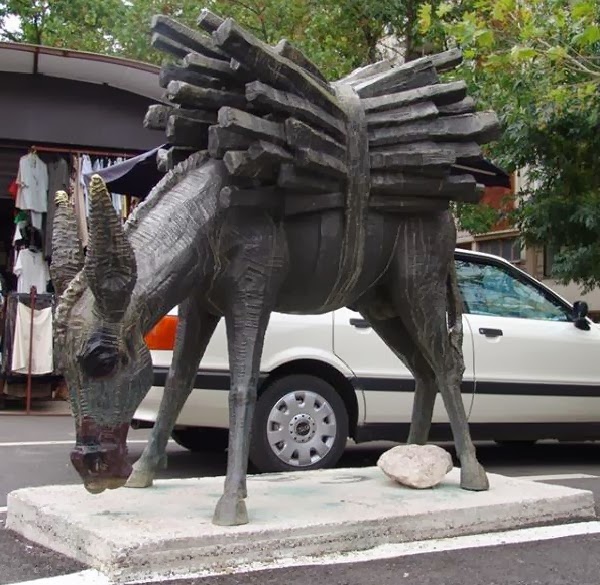 The city market or once called Tepa in Mostar was the center of events and life.
For a large part of the population of Mostar and the surrounding villages, Tepa was once the place where all of them gathered and the reason for their arrival to Mostar. This was the green market, but also a gathering place for meeting people. Many came to Tepa not just for work but also to see who else was in the Tepa and in the surrounding area; people liked to just come and drink coffee with friends and acquaintances.
In case you have missed it, read our previous story – The tradition of coffee in Bosnia and Herzegovina.
Most people from Mostar remember with much joy the monument of the donkey on the Tepa in Mostar. Worldwide, there have been dozens of similar monuments. but the donkey monument in Mostar has its own history.
In the history of Mostar, there have been mentions of the fact that the city of Mostar hundreds of years ago for the first time received tap water, thanks to a donkey.
The building of the first water system was begun by a benefactor, who came in Mostar, and had the desire to raise the water supply. The deal was completed thanks to his donkey, on which he brought a load of gold to the city of Mostar.
The benefactor was building while he had enough gold, and since the job was not completed, he decided to sell his donkey.
The stories say that he tried to sell the same donkey forty times. People from Mostar gave him the money for the donkey but returned the animal to him because they knew that he was selling it in order to gain money for the contraction of the water supply. Despite all of that, the plumbing could not be completed.
The monument to the deserving donkey was not raised then because the religious customs did not allow to raise monuments of people nor animals, but the donkey remained in the hearts of noble people, with signs of gratitude.
Writer from Mostar Ilija Jakovljević noted the following lines about the donkey:
Once the prosperity and progress come with force to this area, Mostar will probably get a stone or bronze monument devoted to his Donkey". The writer did not live to see the monument of donkey built.
The story of Mostar`s donkey is unique in its content. Worldwide, there have been a myriad of similar monuments, from one reason or another. Worthy of death, sometimes stubborn, and in some areas, the donkey is called the poor man's mother. We just call him  magare, but in Dalmatia he is called cargo, in Spain he is called burro,  and worldwide he is called – donkey.