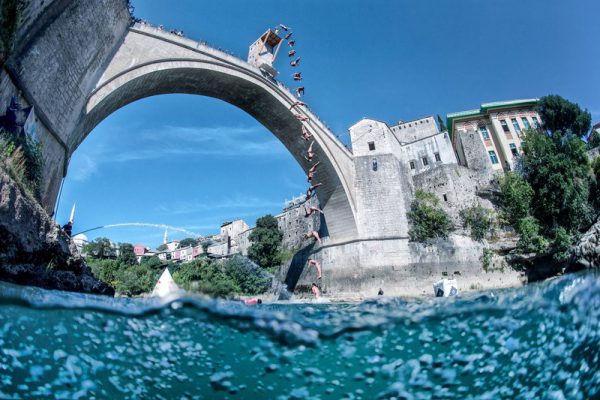 The 16th century historic Old Bridge hosted the Red Bull Cliff Diving World Cup.
In weeks before this magnificent event, Tour Guide Mostar team was reporting the latest news about this event.
Our coverage of this event attracted audience from all over the world. Our most read article in September was the Red Bull Cliff Diving returns to Mostar.
The event itself gathered many Cliff Diving stars.
Michal Navratil carried on where he left off with a stunning victory in Bosnia and Herzegovina.
After a bad shoulder injury put paid to his season in 2015, the Czech diver has roared back to form in 2016 and backed up his win in Wales by doubling up in Mostar.
Talking of shoulder injuries, there was a first podium of the season for David Colturi, who ended his season to have surgery with a third-placed finish, behind Britain's Gary Hunt in second.
But this was Navratil's day again, and after going 52 events in the Red Bull Cliff Diving World Series without a win, he now has two in two.
Among women, Lysanne Richard took her second win of the 2016 season after previously claiming victory in Italy. The Canadian took the win from America's Cesilie Carlton and championship points leader Rhiannan Iffland to keep pressure on the Australian in the points race.
Until next year, Red Bull and Cliff Diving fans can enjoy many video of last month`s competition.
Photo: Predrag Vuckovic/Red Bull Content Pool