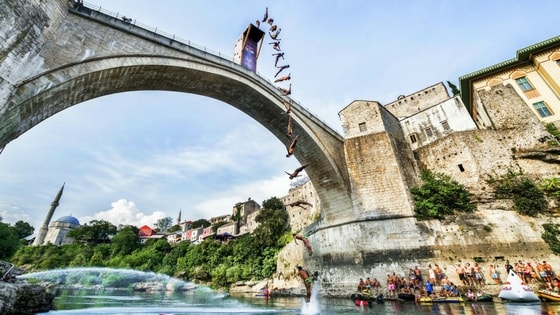 Tomorrow the Red Bull Cliff Diving competition will be held for the second time in Mostar. Beginning at 13 pm, the Old Bridge will host again the Red Bull Cliff Diving World Cup, on September 24th.The competition will be attended by 22 divers of the Red Bull Cliff Diving World Cup in order to continue competing in the seventh stop of the season.
This year in addition to the competition of men, there will be women competing on the Old Bridge in Mostar. The format of the competition has undergone a minor change compared to last year.
Red Bull Cliff Diving World Cup 2016 follows the traditional format of the competition in the high-altitude jumps and combines the rules of Red Bull Sports Committee, FINA (International Federation of water sports) and HDA (Association of dives).
Why is the Old Bridge perfect location of Red Bull Cliff Diving event?
These events take place at locations all around the world, some of them are by seaside, some at lakes or rivers and others take place at historic landmarks such is the case with the Old Bridge in Mostar.
The jumps are made from the heights of 26.5 to 28 meters. Four rounds of jumps are performed in two days. The points from all rounds are counted in toward the final score. The day before the competition, divers have to report which jumps they will perform and each of them has to be different.
The platform for men has the height of 27m while women will jump from 20m.
The depth of Neretva river goes from 5m to 5.5m, while the water temperature in September is around 15°C.
All of which contributes to the fact that many jumpers have stated that the Old Bridge is one of their favorite competition stages.