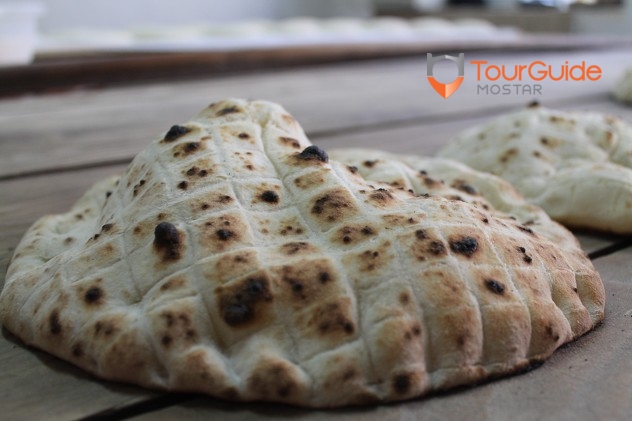 The art and ability to make homemade bread, buns and rolls is an important part of the culture, tradition and cuisine in Bosnia and Herzegovina.
The ćevapi (chevaps) are a favorite dish in the whole country and food lovers from all over the world always enjoy eating ćevapi in our country. Ćevapi has its origins in the Balkans during the Ottoman period, and represents a regional specialty similar to the kofte kebab.
Traditionally they are served together on a plate with a flatbread (lepinje or somun), often with chopped onions, sour cream, kajmak, ajvar, feta cheese, minced red pepper and salt. Every aščinica and čevabdžinica in Bosnia and Herzegovina serves somuns. Read more in our previous post, how to eat ćevapi?
What is somun?  It is a small bread which has an important place in the Ramadan menu in Bosnian tradition. Although they can always be bought in bakeries, somuni have the best scent in the time of Ramadan because of the way in which they are prepared.
According to Mufid Garibija, a famous historian and architect from Sarajevo, first somun in Sarajevo was made by Gazi Husrev-Bey's quartermaster whose last name was Somun, so this kind of "poor" bread was named after him. Somuni, the old Bosnian family of Ottoman origin, is still living in Bosnia and Herzegovina and they are mostly concentrated in East Bosnia.
Apart from dough, there are a few things that influence the taste of each somun. The fire on which somuni are baked also plays a role in the quality of somuni.
They are the best when baked in the old wooden stoves, and this is another reason why somuni are special. Baking in electrical ovens is not a good idea, simply because then the bread you get is not a somun.
Preparation of somun takes much more time that the baking. The dough is made with cold water and baked in very high temperature, amounting to 500 degrees Celsius. In such a high temperature, somuni are baked for 45 seconds to two minutes. Bakers use large wooden spatulas with long handles to put somuni in the oven and take them out.
The story about the pattern on the upper side of the somun is also quite interesting.
This pattern resembles mušebak, wooden grid on the windows of female rooms in a Muslim house. Grids are made with a long metal bar wrapped in white cloth and are the same as they were during the past time when Gazi Husrev-Bey's quartermaster made them for the first time.
So when coming to Bosnia and Herzegovina enjoy yourself and try the unique taste of homemade somun. There are many bakeries and restanurants in Mostar where you can enjoy the taste of this bread. the taste of somun is one of the best things you should eat in Mostar!