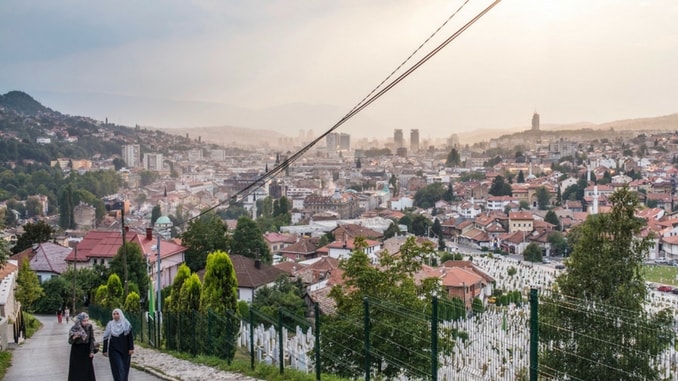 Sarajevo is the largest city of Bosnia and Herzegovina and home for more than six hundred thousand people. Because of its rich cultural variety this city was sometimes called "Jerusalem of the Balkans". It is the only major city in Europe to have a mosque, catholic church, Ortodox church and synagogue within the same area and has been home to many different religions for centuries.
It is perhaps the mix that makes Sarajevo such an attractive tourist destination.  if you are in Bosnia and Herzegovina and are not sure whether to make the trip to Sarajevo – GO!
1. This is the place where you will find one of the best ćevapcčići in the Balkans
If you are coming to Bosnia and Herzegovina then you must try eating ćevapi(chevaps). It is a favorite dish in the whole country and food lovers from all over the world always enjoy eating ćevapi in our country. Ćevapi has its origins in the Balkans during the Ottoman period, and represents a regional specialty similar to the kofte kebab.Chevaps are incredibly versatile. Eat them grilled with veggies, baked potatoes or just go for fresh salad, these meat rolls will excite your taste buds. There are several great restaurants in Sarajevo which serve traditional ćevapi, find more info about them in our Gastronomy section.
2. It is cheap and easy
Sarajevo is a very cheap city and you can get a lot for the value of your money. Weather it is the accommodation, shopping, food, drink, sightseeing or enjoying the night life, all visitors agree are delighted with what they can get here for their money.
3. Food is delicious
Traditional food is both organic and delicious. You must try local  traditional food that can be found in traditional restaurants called Aščinica.
4. It is only two hours from Mostar
In spite of how slow buses in Bosnia travel, it will take you no longer than two hours to reach Sarajevo from Mostar.  Even if you hate it—and you won't, trust me—you'll be out nothing more than a few Bosnian marks and a little of your time. Enjoying Sarajevo is as close to a sure thing as I've recommended on this blog!
5. Architecture is amazing
Sarajevo is famed for its tumultuous history and the city's architecture expresses this beautifully; the Ottomans, the Austro-Hungarians, the Yugoslav wars and the Siege of Sarajevo have all left their mark, making the city one of the most interesting in Europe.