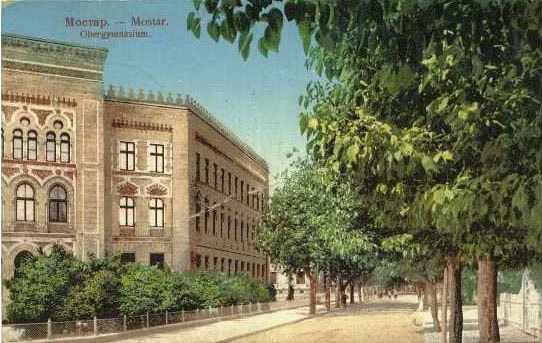 The Austro-Hungarian Monarchy began their rule in Bosnia and Herzegovina during occupation of the country in 1878, and after the collapse of the Austro-Hungarian Empire, in November 1918, this country finally terminated all the snaps with that empire.
During this period, the most important process that shaped the society was the reintegration of Bosnia and Herzegovina in the cultural and political space of Europe.
The people of this area became part of the European order, and its fate was linked with European ideologies, conflicts and geopolitical plans.
In Mostar, there are many buildings built during the Austro-Hungarian period and represent a good blend of Western and Oriental architecture (pseudo style).
Among the most interesting buildings of that time is the Old Gymnasium (1898), one of the most elite schools in the city (located on the Spanish square) and the City Spa (1914), designed by the architect Rudolf Tonnies with the support of Miroslav Loose.
The 1.5 kilometers long path from the Old Gymnasium (Gymnasium Aleksa Santic) to Balinovca was turned into a promenade in 1889. The promenade was opened by the Municipality of Mostar to commemorate the arrival of late heir to the throne Prince Rudolf, the only son of the Emperor and King Francis Joseph l. The place was named in honor of his wife Princess Stephanie – "Stefania promenade" (Stephanie Allee) and the market the Mejdan (1st of May Square) on the left bank of the Neretva River was named "Rudolf Square" (Rudolf platz).
Only eight years after the opening of Stephanie Allee, on the purchased land Ibrahim Bakamovića and Avdo Đikića (1897) made it into the floor circle "roundel" (from the French word "la rondelle" which means round the beds – plantation of flowers in the garden or the park ) from which later came the resulting name "Rondo" instead Gumno. The term "Rondo" has established itself quite late.
Later on this "circle" on Rondo was divided into six radial avenues, which were created in different periods of time. After 1945, the promenade of the Old Gymnasium to Rondo was called Lenin's promenade.
This promenade has become a symbol of Mostar's youth, which gathered there and was strolling every day; they played chess and backgammon. Today, maybe a little bit of the glory of this beautiful promenade has been restored. Â Almost every day one can hear the sounds of children's laughter while all surrounded by greenery and flowers.