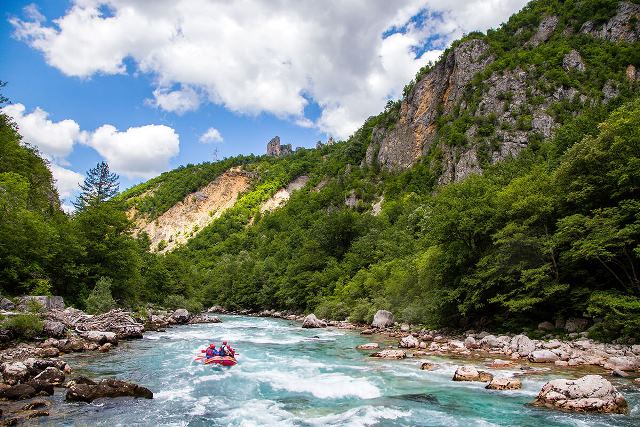 All around the world adrenaline junkies and nature lovers find pleasure in visiting best-rafting destinations. Apart from the mesmerizing cities and their architecture, natural beauty of Europe can offer some of the best rafting adventures you can find in the world.
Tour Guide Mostar counts down best rafting destinations in Europe
Coruh River, Turkey
Coruh River flows through stunning canyons and narrow valleys filled with orchards, which are some of the most beautiful sceneries in Turkey. Also, it runs past ancient ruined castles which you can observe during the trip. The best rafting adventure on Coruh will definitely occur during May and June, since the melting snow of the Pontic Mountains speeds up the river and gives it the Class V rapids.
Vltava River, Czech Republic
It is a fairly mild trip on the Vltava, but the easy access to Prague makes it quite a popular run. You will pass through the quaint farms and villages that line the Czech countryside while paddling the 60 or so raftable miles.
Tara River, Bosnia and Herzegovina
Old Herzegovina and the area of Foca are known as the land of canyons. Two most popular ones are Tara and Piva where you can join some of the best rafting adventures, but there are other canyons, too, such as Sutjeska, Bistrica, Hrcavka, Otesa as well as numerous smaller ones, perfect for exploring. On the Tara River, you can find many professional Tara Sport rafting centers which not only offer full equipment and promise infinite fun with your friends and family, but they also provide great accommodation at their well-equipped bungalows.
Noce River, Italy
Il Val di Sole, the Valley of the Sun is a perfect combination of calming nature and thrilling Class IV-V rapids that are roaring during the whole summer. Noce River takes the 9th place in the World's Top Whitewater Rafting Rivers and many championships have been held there. One section of the river is a bit quieter and you can even bring your children there and enjoy the adventure as a family. For more experienced rafters there are stronger sections of the river where you can have the best vacation with your friends.
Neretva river, Bosnia and Herzegovina
On its way to the Adriatic sea, Neretva flows through some of the most beautiful places in Herzegovina: Konjic, Jablanica, Mostar, Čapljina and Počitelj.
Rafting on Neretva river is a great experience for all lovers of outdoor water sports. There are packages which offer rafting experience from Konjic to Mostar all along the waters of Neretva.