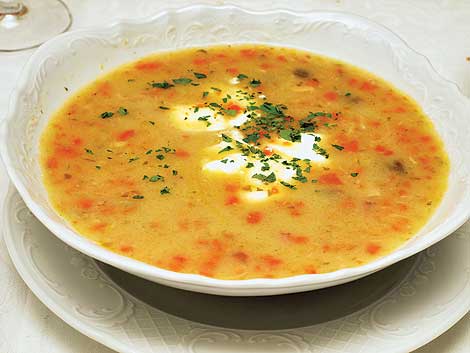 Traditional dishes in Bosnia and Herzegovina are often prepared with meat, and all meals are plentiful and delicious.
The meat is of excellent quality, often organic and well prepared. Meat is a component of some of the most popular Bosnian dishes such as Bosnian pot, kebabs, Bey's soup, chevaps and pea soup.
In case you have missed it, read our previous post – Best Traditional Meals in Mostar.
In the traditional cuisine of Bosnia and Herzegovina, soup is made mostly dense and meat and various vegetables are mandatory ingredients.
The soup has many functions. It can be a main dish that is taken for breakfast, especially if the stomach is not ready for another solid dish. For such situations soup is made from pieces of meat with the addition of vegetables and many spices. If there are no other vegetables, cubed potatoes and rice are added.
The Bey's soup is offered as an appetizer in many restaurants with local food.
How to prepare Bey's soup?
The following ingredients are needed:
– 1 liter of water
– Greens (carrot and parsnip root) cut into cubes
– 100 grams of okra (required in this soup)
– 300 grams of beef, cut into cubes
– 300 grams of chicken meat, also cut into cubes
– 2-3 leaves of laurel
– Butter
– 1 tablespoon of flour
– A little water and milk
– Salt, pepper
– 50 ml of cream
– 1 egg
– Nutmeg
– Chopped parsley
– Lemon juice
In one liter of water add greens (carrot and parsnip root), cut into cubes, 100 grams of okra, then add 300 grams of veal and chicken meat that was previously cut into cubes and also add 2-3 leaves of laurel. Cook for 2-3 hours and add water if necessary.
When the vegetables and the meat are cooked, make a second court surface for light sauce of butter, add tablespoons of flour with a little water and milk, on top of that add salt and pepper.
Mix everything with the pot with the vegetables and meat; gently mix until thickened, however, stirring constantly; add the whipped cream and 1 egg. When it's all over, add the nutmeg.
Before serving, sprinkle the soup with finely chopped parsley and drop some lemon juice inside.