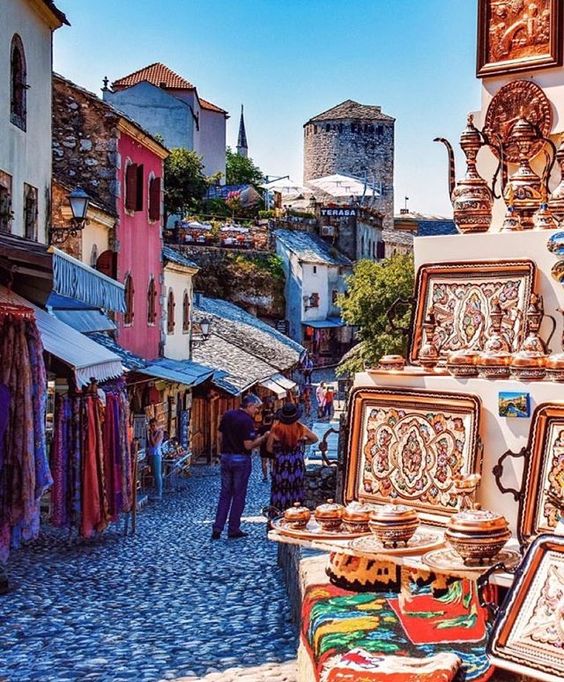 The Old Town of Mostar has been attracting millions of tourists from all over the world because of its unique blend of rich history, picturesque architecture and exotic locations. The Old Bridge is the most magnificent monument in Mostar and it has become the worldwide known symbol of Mostar.
In case you have missed it, read our previous article – Six interesting facts about the Old Bridge.
Old Bridge was built in 1566. and after that this town become an important strategic base for the Ottoman Empire to conquer the Balkan area.  The bridge was established with two towers guarding it – Halebija and Tara towers.
On the east bank raises Tara Tower which was used as a deposit for ammunition in the Ottoman era. The Halebija Tower is on the west side. It was once the prison on its lower floors, and small barracks on its upper floors, also used as a look-out post.
The local people also called this tower "Ćelovina", which is a synonym for jail. The base of both towers is a semi-circle.
Behind the Tara, on the left bank of the Neretva River, is the Herceguša Tower, built in the first half of the 15th century during the reign of Herceg Stjepan Vukčić Kosača. The architects assume that the towers were initially small but that they were later reconstructed several times and added more walls.
Today inside the Tara Tower is the museum of the Old Bridge. Its stone walls of the Museum and narrow passages carry within the legacy of the magnificent Old Bridge as well as the history of the Mostar area.
During the reconstruction of the bridge, several kinds of mortars were used to build kaldrma – dark red mort and pink mort. This kind of construction had the task of preventing the water penetration into the elements of the bridge and also to make the crossing of the bridge easier for the merchants and their animals.
Dark red mortar (or so called Turkish isolation) is located directly above the stone slabs recess bridge and above the stone elements of the arch.
The dark red mort was made of the following components: traditional lime paste obtained from the town of SukoÅ¡an near Zadar; Terra rossa , red earth from Gradnići in ÄŒitluk, which was added for color and pozzolanic properties; Bauxite found on Žovnica near Mostar was used solely as a pigment; broken bricks "IGM"; crushed aggregate "IN KA".
The pink mort was made from the following: lime paste as a binder; broken bricks; stone dust "IGM" from Posušje; crushed aggregate for the filling.