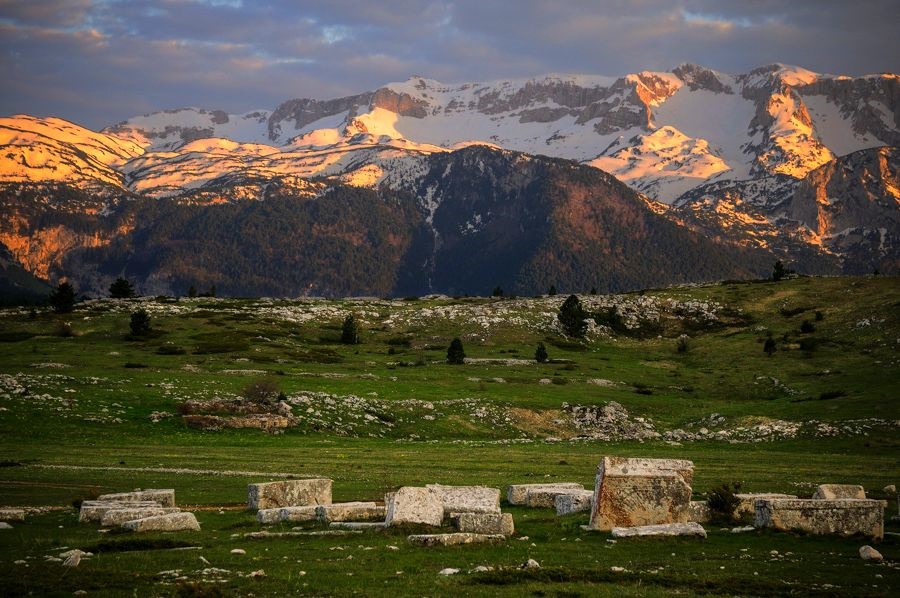 The region of Herzegovina offers a lot of natural beauty that attracts people from all over the world. It takes about 40 minutes of driving by car from Mostar via Jablanica to arrive to Blidinje, and this area impresses with its unique landscapes.
In case you have missed it, read our previous post -Â Life in Blidinje, being one with nature.
The tombstones in Blidinje are a unique cultural treasure of Bosnia and Herzegovina, and they are located about 1,200 meters above sea level in the locality of Dugo polje.
The Commission for Preservation of National Monuments in Bosnia and Herzegovina has declared the historic site – necropolis with tombstones at Dugo polje in Blidinju as being a national monument of Bosnia and Herzegovina in early 2004.
After a six-year process of candidacy, 30 necropolis of tombstones from the region of Dugo polje were registered on the UNESCO World Heritage List.
The necropolis Dugo polje consists of 150 tombstones arranged in southwest-northeast direction. From those, there are 72 plates, 59 boxes, 14 boxes high, four gabled with plinth and one ridge without sockets. A small number of stones is oriented in the opposite direction, southeast-northwest.
Several irregular fragments of plates and trunks sunk in the ground were notices among the tombstones. All tombstones are carved from limestone found in the nearby quarry below the slopes of Vran or from Zreonice. Around the middle of the necropolis, there are the remains of the building in which the villagers built several crates from the cemetery.
The 32 tombstones are decorated. Among them, five boards, 22 chests and five gabled. As a decorative motif of the most common are the rosette (a total of 34 copies). They appear with four, five or more sheets, alone or in combination with a crescent. In most cases the plastic, but there are also carved in stone. After the quality of treatment emphasize the stylized rosettes on a ridge.
The oldest tombstones necropolis at Dugo polje were dated to the second half of the 14th century. These are poorly handled and undecorated slabs in the eastern part of the necropolis. The necropolis developed in the southwest direction, where tombstones precisely formed in high crates and gabled and regularly decorated. A dozen of tombstones in the northeast area, also belongs to the 15th century.
The joint nomination of Bosnia and Herzegovina, Croatia, Serbia and Montenegro requested the registration of 30 tombstones necropolis on the World Heritage List of UNESCO. The  committee will bring the final decision next year.