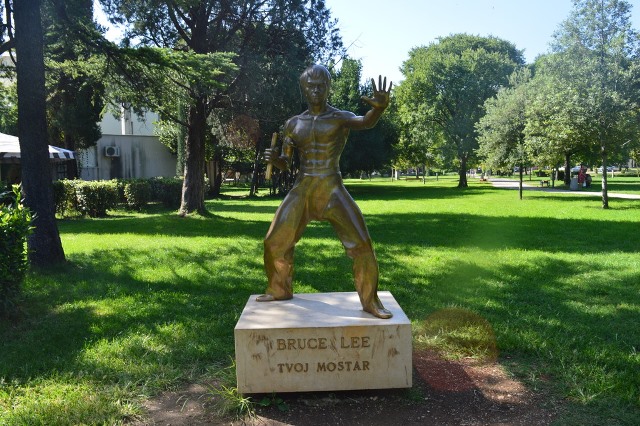 The Old Bridge is the most magnificent monument of time in Mostar and it has become the worldwide known symbol of Mostar but that is not all that this city has to offer.
While taking a stroll through the green Park Zrinjevac in Mostar, you might find a life-sized statue of Bruce Lee with nunchuks in hand.
As you all must know Bruce Lee was a Hong Kong and American actor, martial artist, philosopher, filmmaker and founder of the martial art Jeet Kune Do.
This unusual statue was erected on November 26, 2005, right around the time of the martial arts star's 65th birthday, and was the world's very first Bruce Lee statue. Standing 1.68 metres high, it's only slightly shorter than the real man who measured in at 1.72 metres.
The statue was by Croatian sculptor Ivan Fijolic and oddly funded by the German government, the statue was a symbol of solidarity to an ethnically divided Mostar.
The project of the statue was spearheaded by the youth group Mostar Urban Movement, who saw the statue as "an attempt to question symbols, old and new, by mixing up high grandeur with mass culture and kung fu."
Bruce Lee was chosen by organizers as a symbol of the fight against ethnic divisions. Lee, who was an American of Chinese descent and famous martial arts actor, represented to the residents of Mostar a bridging of cultures. "One thing we all have in common is Bruce Lee."
Just like the Mostar Street Art Festival also organized by young population, the statue was intended to bring a message of peace in a fun and lighthearted way.
It was originally placed in the Spanish Square but was vandalized shortly thereafter. Sadly, the statue had to be removed and was only returned in 2013, when it was placed in the city park.
The statue was the first public monument to Bruce Lee unveiled in the world, with a statue in Hong Kong being revealed one day later marking what would have been the Chinese star's 65th birthday.
The unveiling ceremony of the statue saw the attendance of local Bruce Lee fans, representatives of the German government, which had bankrolled the project, as well as Chinese officials.
Martial arts is popular among the youth population in Herzegovina, especially competitive Mixed Martial Arts where Croatian Mirko Filipović is an international star.