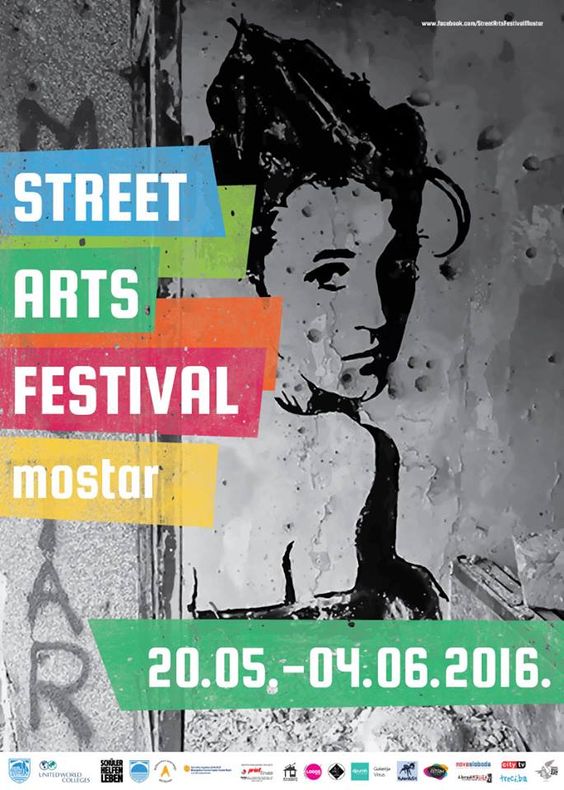 Mostar is a city full of historic landscapes, architecture wonders and enviable works of art. See some of the interesting street art examples in our previous post.
For the fifth year in a row, Street Arts Festival Mostar gives space to international artists to express their artistic creativity in various kinds of arts. In this way Mostar is connected to the world and participates in the process of creating urban culture.
The 5th International Street Arts festival Mostar will bring art in public space of Mostar, connecting artists from all around the world and as such it is creating multicultural platform for street art in city of Mostar. The festival will also gather students from UWC Mostar, local artist and artist from Sarajevo, Banja Luka, Beograd, Zagreb and Split. Festival will also host international artist from Italy, Switzerland, Estonia, Austria, Poland and Chile.
The founder of the Festival, Marina Mimoza stated: "With this festival we succeed to initiate unused creative energy of the city and youth, we opened space for artistic activities both professionals and amateurs. Although we didn't expect it in the beginning, Street Arts Festival Mostar has become recognized all around the world".
How did the Festival started?
Street Arts Festival was created back in 2012, inspired by Banksy's movie "Exit through the gift shop". Young enthusiasts wanted to make a contribution to the Mostar art scene, where after the war there wasn't much shifting concerning the urban art. During last four years of the Festival, city of Mostar has built a new visual identity. Many ruined and abandoned buildings and spaces were painted by artists from all around the world. There are more than 50 murals in different parts of Mostar which attract attention from people of Mostar and all those who visit the city. Large number of independent artists support the Festival, such as: Ema Jones, Ale Senso, Ilja Stahil, Bifido, Pincho, B-toy, Colletivo FX, Astronaut, Bibbitto and many others.