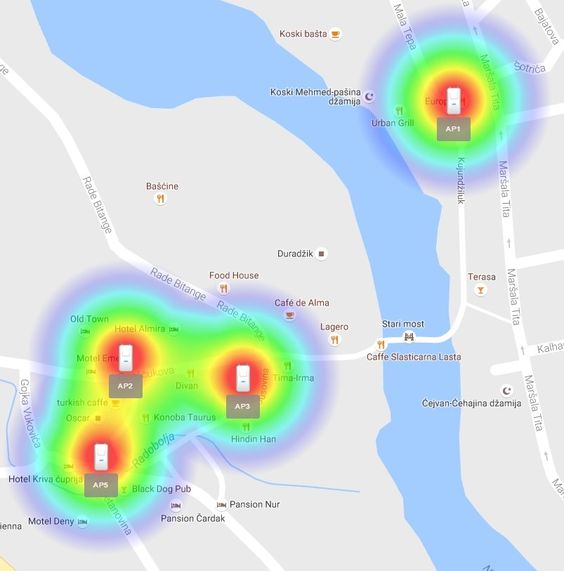 These days our team has finally secured 4 spots which ensure free Wi-Fi connection to the visitors of the Old Town in Mostar. The project "Pametna kaldrma" (Smart cobblestones) is a part of Tour Guide Mostar and it is set to ensure free internet connection in the whole part of the Old Town so that the users can freely use the services of tour guide which we are developing.
Currently the users have the option of seeing the Tour Guide Mostar blog page in English language when logging on the spots which can be seen in the picture above.
The Tour Guide Mostar team has collected info about 270 businesses which will be presented to the tourists completely for free.
The beta version of the portal in English language is coming live by the end of September this year.
The Tour Guide Mostar team plans to adjust the content to other languages such as Japanese, Arabic and Chinese, and for 9 more nations after statistics that were collected so far and searches made on search engines like Google, Yahoo or Bing.
The content of the portal will be the same in all languages but the displaying will be adapted according to the certain interests of people from different countries. In the 3 months of our blog page being live, more than 8000 people from outside Bosnia and Herzegovina visited the page looking for information.
In 10 days of measuring the use of Wi-Fi connection on the locations seen in the picture above, the Tour Guide Mostar free Wi-Fi was used by more than 5000 people which is higher amount than we expected considering that the free connection does not cover the whole area of Old Town yet.
The project "Pametna kaldrma" was planned in the long run because of the adjustments to the interests of people who want to visit our beautiful country.
The fact that any location in Herzegovina on foreign portals is only offered when coming from Dubrovnik, Zadar, Split or Sarajevo is devastating. The reason for that is that on all bigger tourist portals, tourists can only find info about one day trips to Mostar, Međugorje or Blagaj, when coming from the cities we mentioned above.
The Tour Guide Mostar team invites all businesses from Mostar to help us make a great offer for tourists who plan on coming here the next year. This Tour Guide is a solution which can be used for any other city in the region.
The region of Herzegovina is a small group of businesses which can promote their offers only by acting together.
Help us make Herzegovina better location for longer stays from which the tourists will plan one day trips to other places.
Contact us at:Â info@tourguidemostar.com