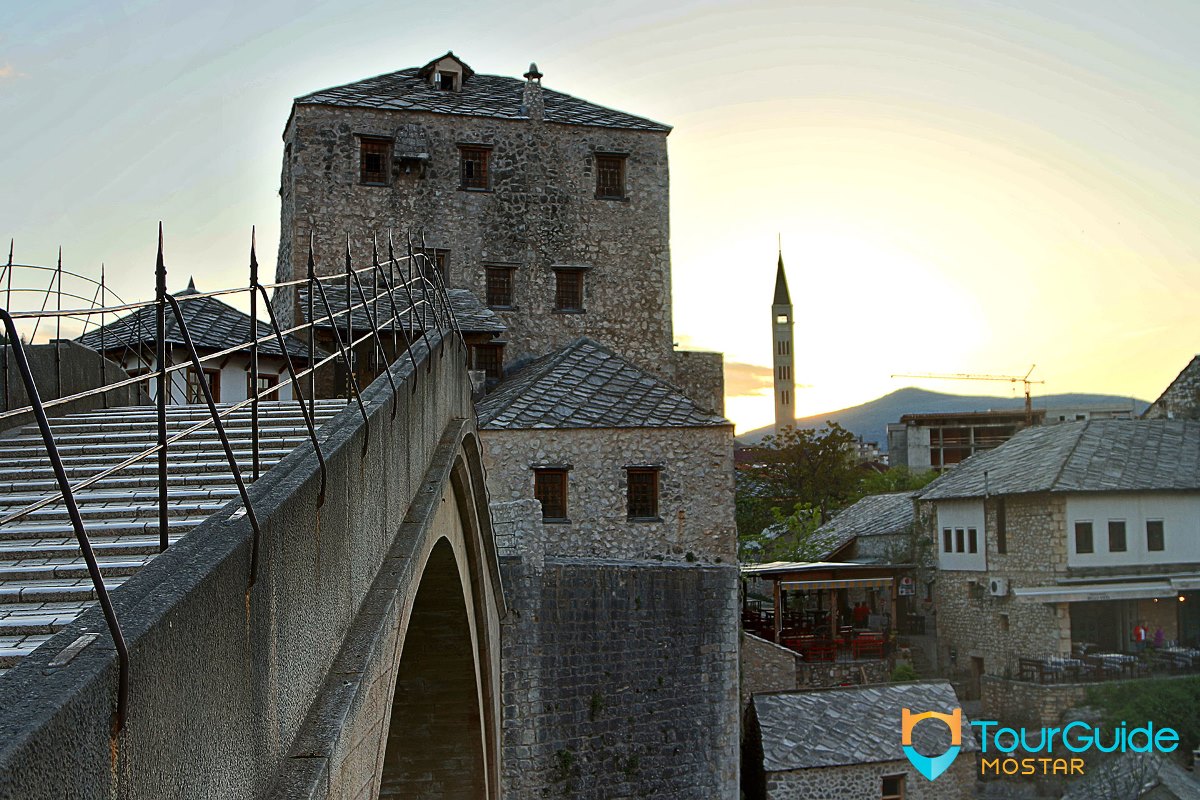 The city of Mostar is worldwide known for the many bridges and its name derives from the bridge keepers (mostari) who in the medieval times guarded the Stari Most (Old Bridge) over the Neretva.
The Old Bridge was built in 1566. and since then this town became an important strategic place and the base for Ottomans to conquer the rest of Balkan area. The bridge had to be established with the bridge towers while the pathways was made of cobblestones. In case you have missed it, see our post Kaldrma, the cobblestone pathways spreading through Mostar.
On the east bank raises Tara Tower which was used as a deposit for ammunition in the Ottoman era. The Halebija Tower is on the west side. It was once the prison on its lower floors, and small barracks on its upper floors, also used as a look-out post.
The local people also called this tower "Ćelovina", which is a synonym for jail.The base of both towers is a semi-circle.
Behind the Tara, on the left bank of the Neretva River, is the Herceguša Tower, built in the first half of the 15th century during the reign of Herceg Stjepan Vukčić Kosača. The architects assume that the towers were initially small but that they were later reconstructed several times and added more walls.
Today inside the Tara Tower is the museum of the Old Bridge.
It was opened in 2006 in order to celebrate the second anniversary of the reconstruction of the Old Bridge. The museum is made up of three distinct sections. The first, represented by the Tower itself, displays an exhibition of objects of archaeological interest discovered during the reconstruction carried out in 2002, all of which are enriched by informative charts that explain the principal historical events connected to the Bridge.
From the five floors of this section, which are open to visitors, one reaches a lovely gazebo, standing at the highest point of the building which offers a 360° panoramic view of the city.
The second section exhibits pre-existing remains of archaeological importance from underneath the tower, the remains of two wooden bridges belonging to the period before that of the stone bridge and the base of the Old Bridge.
The third section, called "Labyrinth", is made up of a photographic gallery dedicated to the Old Bridge, to the damaged towers and to their following phases of rebuilding. Audio-visual multimedia charts recount the history of the reconstruction of the bridge.
Tourists can visit the museum every day (except on Mondays) from 10.00 AM. to 6.00 PM.