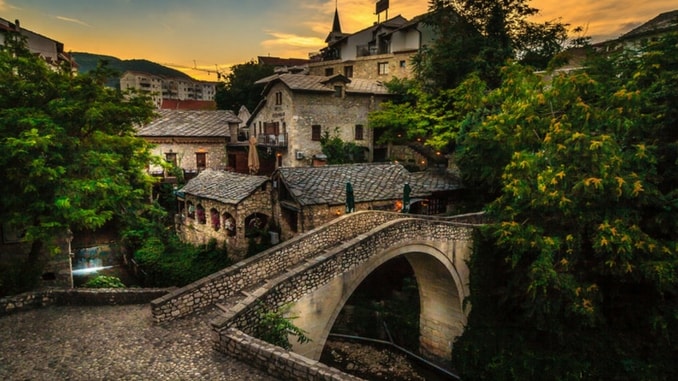 Located in the south of Bosnia and Herzegovina, the beautiful city of Mostar boosts with its rich history and architecture.
Tour Guide Mostar brings you must visit objects in Mostar…
Catholic Church and the Franciscan Monastery in Mostar
Today the Catholic Church and the Franciscan Monastery in Mostar stand together as one the most beautiful architecture examples. Originally this complex was built in 1866. during the Ottoman rule.
In case you have missed it, see our previous post about the history behind the Catholic Church and the Franciscan Monastery in Mostar.
Today the bell tower of the church is the highest construction in the city, boosting 107m of height. The view from the top of the tower is truly magnificent, showing the whole panorama of the Mostar.
This complex boasts a library with 50,000 ancient western and eastern scriptures and books. It is the largest library of such characteristics in Herzegovina and this region. In the monastery there is also an important collection of paintings by Italian masters of the XVI and XVII century, and also works from modern artists.
Koski Mehmed Pasha Mosque
Today the iconic Koski Mehmed Pasha Mosque is probably among the most famous symbols of Mostar. It`s the second largest mosque in Mostar, situated on the left bank of the Neretva river, just about 150 meters north of the Old Bridge.
The entrance leads to the beautiful courtyard where you can enjoy the colorful garden, shops, restaurant and Šadrvan fountain. The concept of building Šadrvan comes from the Persian culture and it was brought to Bosnia and Herzegovina during the Ottoman rule. Read more about the history behind the picturesque Šadrvan in our previous post.
Visitors can enter the mosque and enjoy the unique architectural features of the Ottoman style. The most important element in the mosque is the mihrab, the niche that indicates the direction of Mecca.
The mosque was constructed in 1618. Visitors are allowed to climb the minaret, which offers a panoramic view of the city.
Kriva Cuprija bridge
Besides the famous Stari Most (Old Bridge), a genuine symbol of the town destroyed in 1993, there is another ancient bridge in Mostar: the Kriva Cuprija (or the Crooked Bridge).
It crosses the Radobolja creek, a right-bank affluent of the Neretva River. The exact date of its construction and the name of its founder are not known.
Kriva cuprija is a stone one-arch bridge of small dimension and closely resembles the Stari Most. The arch is a perfect semi-circle 8.56m in width and 4.15m in height. The bridge footpath and the approaching roads are paved with cobblestones, as is the case with the main roads in the town. Stone steps enable people to ascend to the bridge either side. The floods of December 2000 destroyed this bridge.
A reconstruction project has been initiated by UNESCO, financed by the Grand Duchy of Luxembourg. The project was completed in the year 2001.