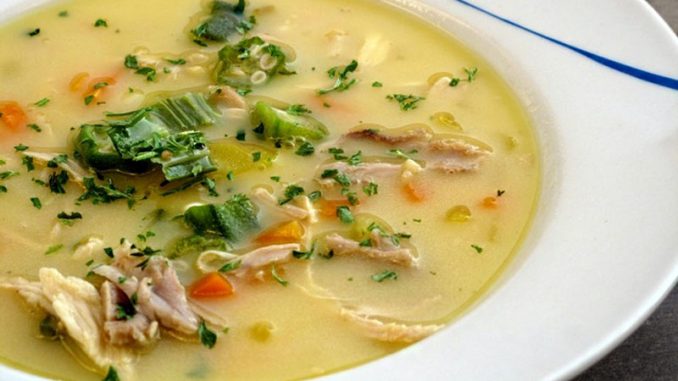 INGREDIENTS
chicken leg quarters
2 carrots (large, diced)
1-2 celery sticks (or 1 celery root)
½ bunch parsley
½ tsp ground pepper
1 handful okra (cut into rounds if it's not Balkan okra)
1 tsp seasoned salt
2 tbsp flour
(Optional) 1 egg yolk
(Optional) 1 teaspoon sour cream
INSTRUCTIONS
Prep okra ahead of time by boiling it in water and lemon juice for an hour or soaking it in the same.
Place the chicken, carrots, celery sticks (root), ¼ bunch parsley, okra, salt and pepper in a pot, cover with 6-7 cups of water, and cook on high heat until it boils. Lower to medium heat and cook for another 70-80 minutes. Occasionally replenish with (warm) water so that the level of water is about the same throughout cooking.
Take the chicken, celery, and parsley out. Remove chicken skin and bones, dice the meat, and then return it to the pot. (You can also take the carrot out and cut it up into even smaller pieces, or mash it up and return to the liquid.)
Place the flour and some water in a smaller cup, then mix well so there are no bubbles. Add the mix to the soup so that it thickens it. Let it simmer on high for 5-10 minutes.
Dice the remaining, fresh parsley and also add to soup.
(Optional) Mix egg yolk and sour cream in a cup, and then pour into the soup, and simmer another 5 min.