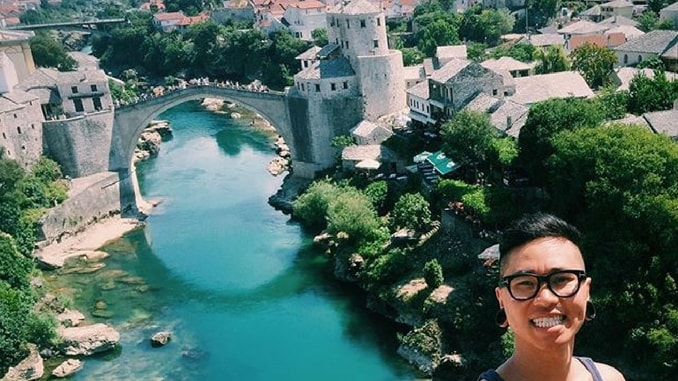 This story originally appeared on: propercroatia.com
Passionate and persuasive, Ana Filipović loves sharing her cross-cultural insights and personal flare. Born in Croatia, grew up in Bosnia and Herzegovina, Ana is currently adventuring away from her European homeland to study at Hood College, Maryland, U.S. More specifically, as she crosses the world on a ship with a study abroad program for spring 2015, Semester at Sea, her missives reflecting on her home country come from her deep knowledge and passion to develop the area.
Mostar is an unbelievable city with a long history and a very rich present. You can spend days in the city, but even a day stop will enrich your travels! Here are some things you shouldn't miss seeing:
The Bridge. Of course. When you first see the Old Bridge forget about your camera or your new Facebook profile picture. Take a seat on the coast of river Neretva and look up. The Old Bridge is not just a bridge made for crossing from East to the West coast and vice-versa. For the post-war generations, it presents peace and unity. It signifies reconciliation. Cheer to this with a local beer. Admire the scenery and the people. And yes, now you may take your cameras out.
While at the Old Bridge, grab a bite of pita, local hearty snack made out of dough with different fillings (potatoes, cheese, spinach, minced meat, and many more). If you are a huge meat eater, you should go for ćevapi in lepinja bread with garlic and sour cream. You're welcome.
That "Big Tall Orange Building" at the Spanish Square – is actually from the Austro-Hungarian period and has endured a lot of suffering from bullets and grenades throughout the Civil War in 90s. Today, it hosts two public and one private high school for three programs. One is Bosnian, one Croatian, and the third one is United World College (UWC) – an international IB school, with more than 33 nationalities from all around the world attending it. The square was the front fighting line between Bosniaks and Croats during the war. UWC serves as an example of unity across Bosnia-Herzegovina.
From the Spanish Square, stop by a local café Coco Loco for an enjoyable café latte. Take a break and have a snack from one of the local bakeries. The U.S. has Panera, but we have small mom & pop's shops that will make your lips tremble from richness of the food offerings.
The Glass Bank is right across Coco Loco. It's an abandoned building still wounded from the war. BUT, you can go in and walk up the stairs to see an amazing panorama of Mostar. Take plenty of pictures and enjoy. Because traveling is all about taking it all in. Dobrodošli!