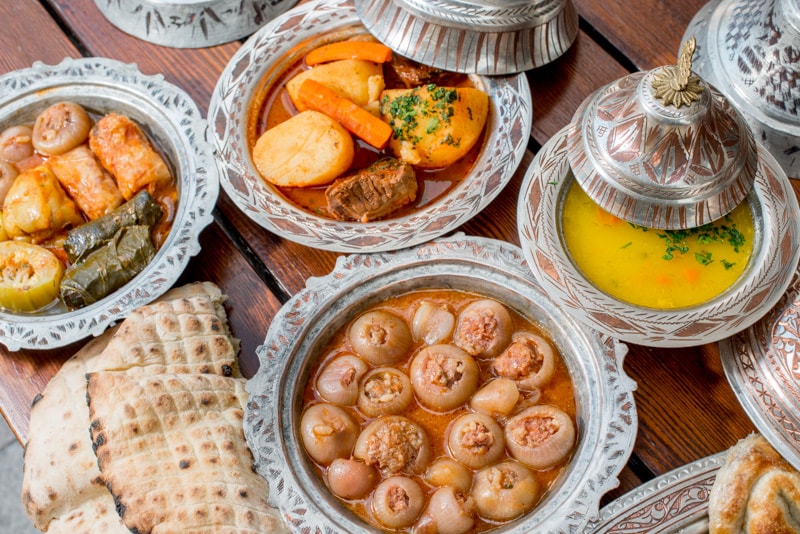 The history of Bosnia is as diverse as the people and religion of the nation. However, we are joyful people and we respect our long wedding menu tradition in Bosnia and Herzegovina!
Bosnian cuisine is balanced between Western and Eastern influences. The food is closely related to former Yugoslav, Middle Eastern, and other Balkan cuisines.
Sometimes the bride's  family cooks for guests or we order the same traditional wedding menu in best restaurants or Wedding salons.
When guests arrive in the Salon the cold appetizer is already on the table, the oval plates full of cheese, prosciutto, salami, Bosnian sudžuk with olives and tomato salad.
For warm appetizer we always have some kind of soup, The Beg's soup, Pumpkin creamy soup, or the most popular the Bamnija soup.
After we ate appetizers it's time for the pie, well in Bosnia is always great time for pies like " The Sirnica" Sirnica is the food you eat for breakfast, lunch and dinner. Because of the cheese, this pie is light to eat, "The Zeljanica" is made of spinach, cheese and eggs it light and healty Bosnian pie, "The Krompirača"is made of potatos and lot of papper and it's best when is cooked "ispod sača" (hot bell), " The Buredžici" are made of meat, yogurt and fresh garlic its very refreshing meal you can always eat a lot, " The Tikvara" is made of pumpkin it can be sweet or salt with onion and pepper, " The Kureljača" ismade of fresh cheese, eggs and mashed potato, it's not expensive version of piet but it's very delicious or King of them all "The Burek" pie made of meat with little bit of onion and pepper roasted in stove or in "sač" (hot bell).
The main course is always Roasted lamb. We love it and it's long tradition on spiting it on a fire for many occasions.
After that is time for dessert, the big Wedding cake with plastic figures of "Just married" people with a boy or girl baby at the bottom of the figure and that should predict sex of their first child.
It could be interesting so keep accepting your Wedding invitations.