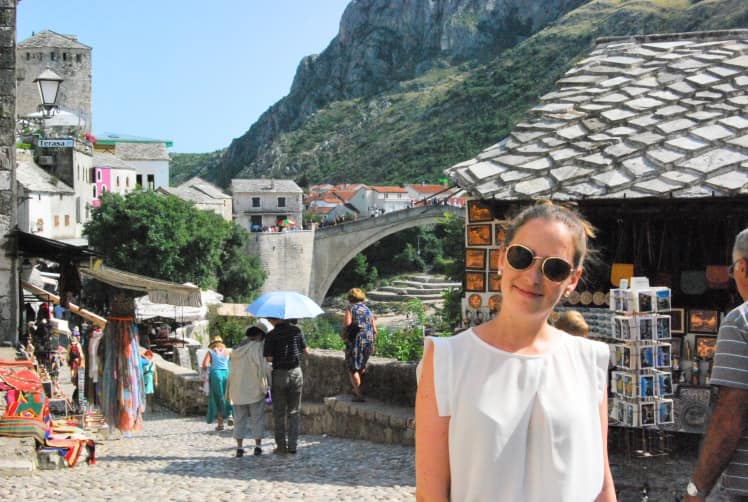 Source:Â telleroftravels.com
In September last year Teller Of Travels visited our beautiful city of Mostar. We found this article useful! Read her thoughts and experience of Mostar.
Mostar is a city in southern Bosnia and Herzegovina, a UNESCO World Heritage Site, with a big influence from the Ottomans. It happened to be that our stop in Mostar coincided with Ramadan. I had never been to a country where Ramadan occurred. Thankfully our host was more than happy to teach us about his culture. As Mostar lives mostly out of tourism, they do not fast during daylight hours (at least you are allowed to eat at restaurants).
When you arrive at the Old Town, you'll immediately notice the narrow streets filled with souvenirs shops that sell engraved Bosnian coffee sets, which they claim to be handmade. And, if you are like me, you will have to talk yourself into not buying something every 10 steps. In any case most shops also accept payment in Euro currency, the same goes for restaurants.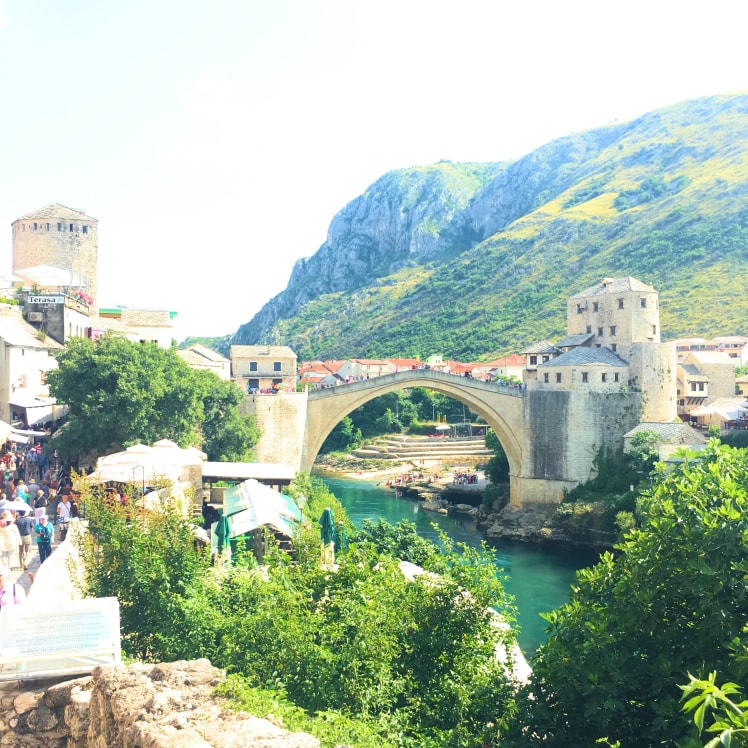 Did I mention the slippery walkway? I found out about it not in a very stylish way, good thing I have good reflexes! This goes for the entire city center but specially when crossing Stari Most, the old town bridge. Built in the 16th century, this Ottoman-style bridge is Mostar's main attraction. It connects the two sides of the city with a length of 28 meters across the Neretva river. 
On top of the bridge, you will most likely notice the men diving into the river. It has become a big attraction, they even have a Mostar Diving Club! But not before they go around collecting money for you to see this show. It's a 24 meter jump!!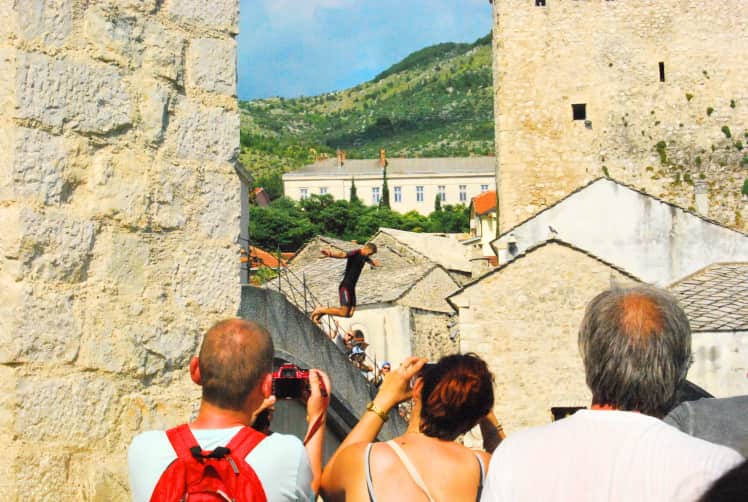 Below the bridge there is a nice area, where you can have a better look at the diving or just admire the view of the bridge with the city on the background. It was summer time, so there were also some kids going down the river with floaters, using the river's tide to their advantage.
Everywhere you look the view is stunning, although it is a very tourist orientated city, take some time to breath in the nature surrounding you and the years of history that this place has. Many buildings haven't been re built since the war. If you look closely you can still see bullet holes from nearly 20 years ago. 
And when you think it can't get any better, it does. The food is delicious. Most menus have pictures of the food so you'll have an idea of what you are asking for. Also, for coffee lovers, you have to try the typical Bosnian coffee. Although it is similar looking to the Turkish coffee, do not attempt to compare it to a Bosnian, they might take it as an insult.