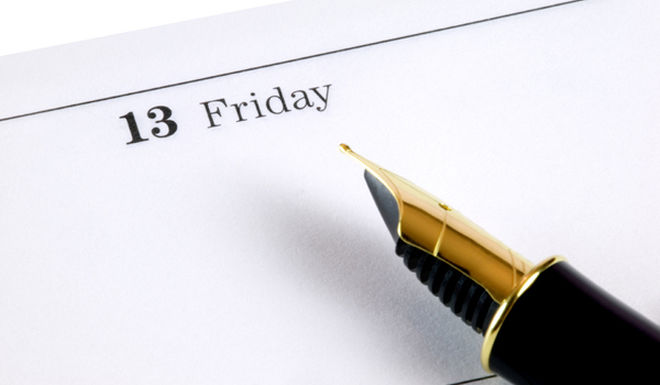 Friday the 13th is considered an unlucky day in Western superstition. It occurs when the 13th day of the month in the Gregorian calendar falls on a Friday.
If you are worried about what's in store this time, then you're not alone. Psychologists have even come up with a word for how you're feeling – paraskavedekatriaphobia, or fear of Friday the 13th.
Paraskevidekatriaphobia, from the Greek words Paraskeví (Παρασκευή, meaning "Friday"), and dekatreís (δεκατρείς, meaning "thirteen").
Why do we choose this day in particular to fear for our lives?
– The superstition around this day is thought to have come about during the Middle Ages, and may have Biblical origins.
– Some historians have claimed it was the day on which Eve bit the apple from the Tree of Knowledge, the great flood began and the builders of the Tower of Babel.
– In the New Testament there were 13 people present for Jesus's last supper on Maundy Thursday, the day before Christ's crucifixion on Good Friday.
Nearly three-quarters of adults in the UK say they have suffered from bad luck on a previous Friday 13th, according to research carried out by hotel chain Travelodge.
Big business isn't immune to the superstition either, with hotels routinely skipping floor 13.
In 2013 the Society of the Irish Motor Industry (SIMI) introduced a bi-annual system amid fears that a '13' registration number would hit car sales.
However, if you are keen to take a more positive slant on the superstition, take a leaf out of the ancient Egyptians' book.
They believed the number 13 was lucky because they believed that the 13th stage of life was related to the afterlife.
And in Spain there is a common belief that Friday 13th is a particularly lucky day for children to be born.