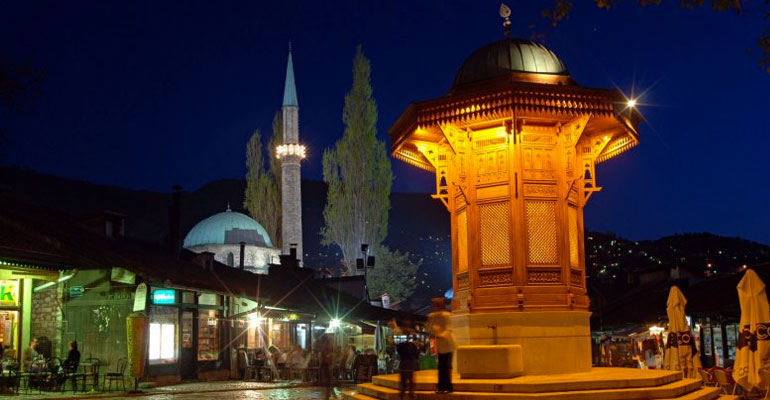 Sarajevo, capital of Bosnia and Herzegovina, is a compact city on the Miljacka River, surrounded by the Dinaric Alps. Its center has museums commemorating local history, including Sarajevo 1878-1918, which covers the 1914 assassination of Archduke Franz Ferdinand, an event that sparked World War I. Landmarks of the old quarter, Bascarsija, include the Ottoman-era Gazi Husrev-bey Mosque.
Tour Guide Mostar counts down 10 reasons to visit Sarajevo:
An excellent starting point
Sarajevo is located in the heart of Southeastern Europe and is an excellent starting point for exploration of the entire region. It is located only 293km away from Belgrade (Serbia), 405km away from Zagreb (Croatia) and 231km away from Podgorica (Montenegro).
Great value for your money
Sarajevo is a very cheap city and you can get a lot for the value of your money.
Whether it is the accommodation, shopping, food, drink, sightseeing or enjoying the night life, all visitors agree are delighted with what they can get here for their money.
A place with rich history
Over the past 100 years, Sarajevo has been a part of six different countries and has witnessed the Sarajevo Assassination, the First and Second World wars, the XIV Winter Olympic Games and unfortunately this place was under the longest-running siege of any city in the modern history.
Place of unique cultural mix
Only a ten-minute walk in Sarajevo is enough to encounter religious places of world`s most important monotheistic religions: Orthodox and Catholic Churches, synagogues and mosques.
Relaxing rhythm
Sarajevo`s rhythm is easy going and relaxing. People take their time to enjoy the small life pleasures. You can spend a lovely day simply by slowing down your pace and drinking coffee in the Baščaršija area.
Ideal size
This city is large enough to have plenty to do and see but yet so small and compact that you can discover many attractions just by going on foot.
Gorgeous nature
Just after a 10-minute drive or less than an hour walk from the center of the city, you can find yourself surrounded by untouched nature. With Olympic ski lanes located only a 30-minute drive from the city center, you can enjoy idyllic mountain landscapes during the winter.
A safe destination
According to the statistics, Sarajevo is one of the safest cities in Europe. There are no neighborhoods that should be avoided but we do recommend extra caution when it comes to pickpockets.
Delicious local food
Traditional food is both organic and delicious. You must try local cevapcici or other traditional food that can be found in traditional restaurants called ascinica.
Friendly people
If the beauty of a city is determined by the spirit of its inhabitants, then Sarajevo is always at the top. These people are worldwide known for their hospitality and kindness.