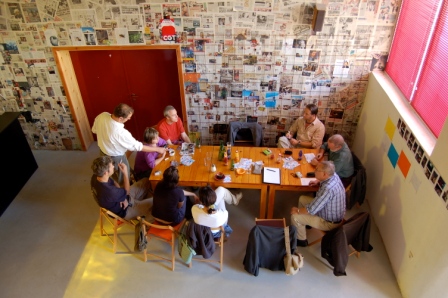 Mostar city of stone on stone, historical, political, scientific and cultural center of Herzegovina lies at the foot of the slopes of Velez Mountain, in the Neretva River valley. The Old Bridge is the most magnificent monument in Mostar and it has become the worldwide known symbol of Mostar.
This is the place where one of the most famous poets in Bosnia and Herzegovina, Aleksa Šantić was born. Even today this city exudes its contrasts, wide roads, narrow streets and affinity for art.
The OKC Abrašević is the Youth Cultural Centre Abrašević which is an open network of non-governmental organizations, informal groups and individuals based in Mostar, Bosnia and Herzegovina. It offers a space and support to youth in realizing ideas and it encourages projects that promotes civic society, arts and social cohesion.
This center got its name after Kosta Abrašević, a poet born in Ohrid, Macedonia.
After being closed for nearly ten years, it came back to life in 2003 thanks to a network of non-government, youth associations which were initially created around the MIF (Mostar Intercultural Festival).
Abrašević also houses three subdivisions called Abraš MEDIA, ABArt andAbraš MEDIA Radio.Abraš MEDIA covers news stories and articles, ABArt encourages social transformation through arts and Abraš MEDIA Radio produces radio program.
Today we can state for sure that in the last decade this institution has highly contributed to the development of the city of Mostar.