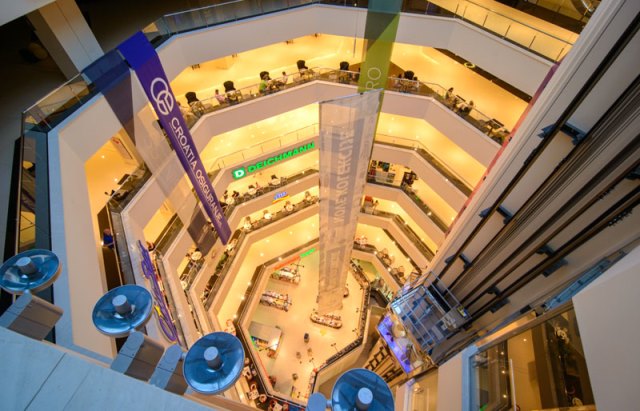 This summer Balkan`s hottest emerging destination was the city of Mostar, situated on the south of Bosnia and Herzegovina. Alongside the many historical sites and beautiful architecture, this city also offers shopping malls for fashion lovers.
Tour Guide Mostar brings three shopping malls in Mostar…
Mepas Mall
The Mepas Mall is the biggest shopping center in the region of Herzegovina that has the surface of 100.000 m².  It is located at the crossroads of the street of Kardinal Stepinac and streets of Kneza Višeslava.  As one of the most attractive locations in the center of Mostar, there are 3 level underground garage with 605 parking spaces, 7 above ground level, two floors of the hotel level, 4 panoramic elevators, and 5 cinemas.
This is the place where you can find leading high street brands like Zara, New Yorker, Bershka, Stradivarius, Pull&Bear, Benetton, Adidas and many more. There are also lots of entertaining activities. Enjoy blockbusters and 3D projections in Cinestar movie theather, bowling or game of pool in the Bowling center, while the kids can spend time in good entertainment and sports activities in the playroom "Jungle".
In case you have missed it, read our previous post – 5 Ways To Stay Upbeat On An Overcast Day in Mostar.
Piramida shopping center
The Piramida shopping center offers lots of fashion brands like Brandly, Borovo, Micollo, Exit, Levi`s, Sport Life, Navigare and Portobello.
There are also lots of Caffes, grocery stores and restaurants.
The project to build the Pyramid Centre had the cost of approx. 20 milion Euros and this investment was one of the largest ones in the Federation in 2009. On the surface of 5000 m2 of retail space, there are located about 40 shops and restaurants. Visitors can use 120 parking spaces, divided into two floors, and throughout the year receive hours of parking.
Shopping center Mostar
Shopping center Mostar is located in the center of Mostar, and this was one of the first classic shopping centers in Herzegovina.
Opened back in 2001, on an area of about 4,000 m2 and consisting of about 50 stores in which are represented popular brands from all trading activities. Visitors to the sales center have available underground garage with 200 parking spaces, 24 hours protection, as well as a number of parking places at the entrance to the center.
Shopping center Mostar is adapted to urban plan and appearance of the town in which it is located. It is also locally called under the name – Stari trgovački centar. Regardless of whether you want to enjoy exploring the latest fashion trends, relax with a coffee or dessert, this place has it all.