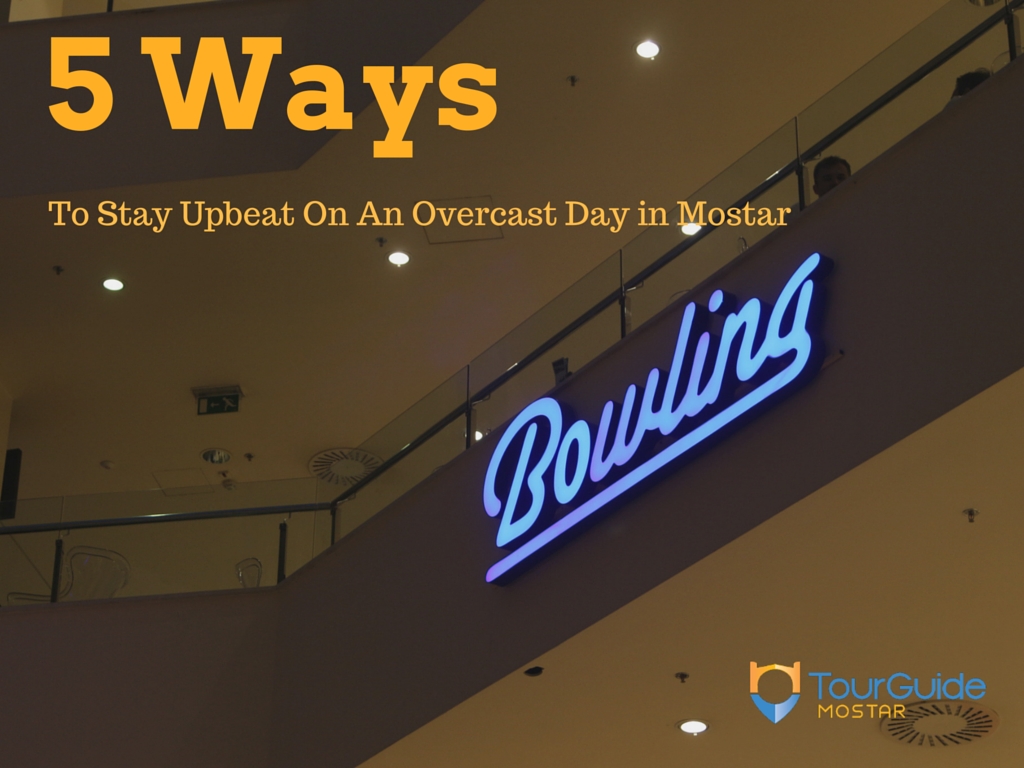 We all know how bad weather can suddenly change our plans and that can be annoying especially when you are on vacation. The cultural heritage and picturesque architecture in Mostar can make your vacation unforgettable.
What if the weather changes?  Don`t let the bad weather spoil you mood because there are many places you can still visit and have a great time!
Tour Guide Mostar brings 5 ways to stay upbeat on an overcast day in Mostar.
The Mepas Mall is the biggest shopping center in the region of Herzegovina that has the surface of 100.000 m². This is the place where you can find leading high street brands like Zara, New Yorker, Bershka, Stradivarius, Pull&Bear, Benetton, Adidas and many more.
The Bowling Center in Mostar is located in the Mepas Mall. It has a bowling alley with eight lanes that can satisfy the most passionate bowlers. In addition to that this place also has pool tables and a bar.
The Cinestar is the largest movie theater in this region. It covers an area of 1378 square meters with 5 cinemas with a total capacity of 700 seats. Here you can enjoy the latest blockbuster hits with Dolby Digital EX i DTS sound systems. The theater brings more than 150 movies per a year.
The Black Dog Pub is located near the Crooked Bridge in the Old Town. This place features four specially brewed draft beers, happy hours and live accoustic music on Monday nights. A decor of flags, posters and old car numberplates add further character to the ancient mill-house building whose stream-side terrace has great view on the Crooked Bridge.
There are many museums to visit in Mostar. Our favorite one is the Museum of the Old Bridge is located in the Tara tower. The stone walls of the Museum and narrow passages carry within the legacy of the magnificent Old Bridge as well as the history of the Mostar area.
In case you have missed it, see our previous post Three tips for doing fun things when visiting Mostar on the budget.