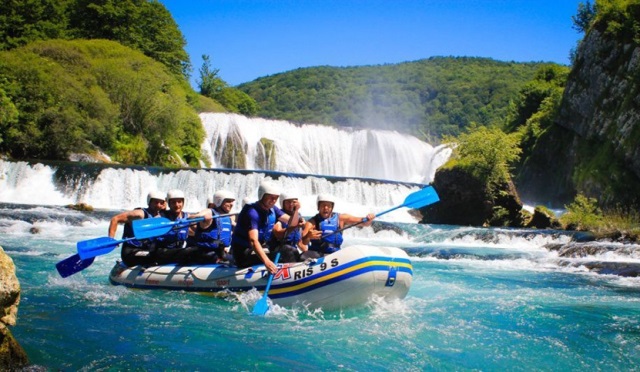 As we have mentioned before numerous times, the fertile region of Herzegovina offers a variety of tourist activities. This land has something for everybody's taste, from historic sites and green landscapes to adventure sports and other outdoor activities.
In case you have missed it, read our previous post – 5 reasons to road trip Herzegovina.
Rafting is probably among the world`s most popular outdoor activities. The region of Bosnia and Herzegovina offers a few rafting locations thanks to its fast rivers.
Rafting on Neretva river
On its way to the Adriatic sea, Neretva flows through some of the most beautiful places in Herzegovina: Konjic, Jablanica, Mostar, Čapljina and Poćitelj.
Rafting on Neretva river is a great experience for all lovers of outdoor water sports. There are packages which offer rafting experience from Konjic to Mostar all along the waters of Neretva.
Rafting on Tara river
The Tara canyon is largest in Europe, and second largest in the world. The most attractive part of the river Tara represents the border between Montenegro and Bosnia and Herzegovina. The most popular tour among tourists is a two-day program which includes rafting on the 25 kilometers long route of the Tara River and jeep safari through the National Park "Sutjeska" with a visit to one  part of the Perucica, the only primeval forest in Europe.
Rafting on Una river
According to the legends, Una river was named by the Romans, who were so taken by its beauty when they first saw it that they named it "UNA" (lat. one, the only). It runs for 212.5 kilometres from the springs in Donja Suvaja and Donji Lapac areas, to the confluence with Sava river. The Una is famous for its waterfalls and crystal cascades, mesmerizing first time visitors with its beauty. This river is very popular for rafting activities. Many agencies offer 4 to 5 hours of rafting with experienced rafting skippers. The first Rafting Regatta on the Una was held in August 1964, with more than 80 participants from France, then Czechoslovakia, Hungary, Western Germany and Yugoslavia.
It is also important to mention that today there are about 30 registered rafting agencies in Bosnia and Herzegovina, but the true number is estimated to be much higher.