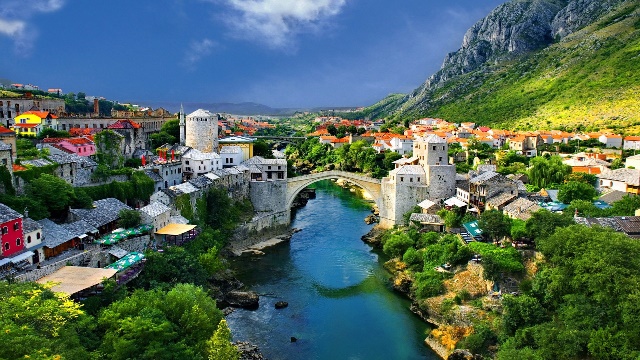 The historic city of Mostar is the cultural, political and financial center of the region of Herzegovina. Unique in its diversity, its charm come from the cobblestone streets which are woven with the spirit of different civilizations which lived here.
This city is very often called, the city of many bridges, youth and light.
Unique cultural and historic sites are situated in the Old Town as well as surrounding the city. The symbol of Mostar is the Old Bridge, which connects the two banks of the Neretva river in Mostar.
In case you have missed it, read our previous story – Six interesting facts about the Old Bridge.
The Old Bridge was built in 1566. and since then this town became an important strategic place and the base for Ottomans to conquer the rest of Balkan area. The bridge had to be established with the bridge towers while the pathways were made of cobblestones. In case you have missed it, see our post Kaldrma, the cobblestone pathways spreading through Mostar.
The Old Town is best known for its narrow streets with the Bazaar area called Kujundžiluk where many shops sell handcrafts, art and other traditional products.
The Old Bridge was added to UNESCO World Heritage list back in 2005. In case you have missed it, see other UNESCO monuments in Mostar.
Historic artifacts confirm continuous habitation in this area since ancient times.
The earliest written record of Mostar dates back to the 9th century.