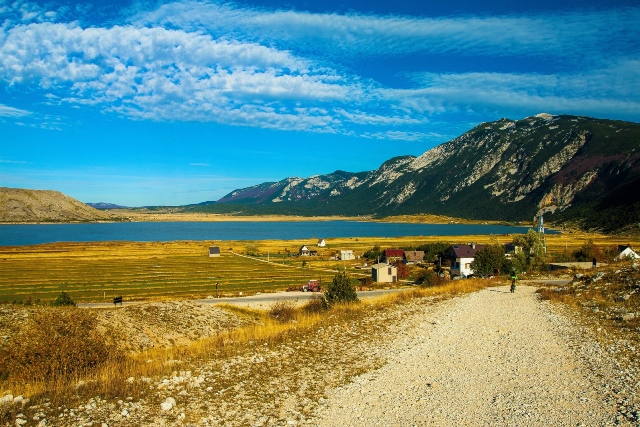 The region of Herzegovina offers a lot of natural beauty that attracts people from all over the world. It takes about 40 minutes of driving by car from Mostar via Jablanica to arrive to Blidinje, and this area impresses with its unique landscapes.
In case you have missed it, see our previous post – 5 must see landscapes in Herzegovina.
Blidinje Nature Park encompasses the area between two mountains – Vran and Čvrsnica and fertile valley between the two fields, which occupies an area of 358 km4.
In the field, near the west end, is situated Lake Blidinje. This is the pearl of nature, the blue mountain around the heart of this endless mountain greenery.
There are many rare and endemic plants in this area and it is important to mention the "munika" in Masna Luka which is the largest complex in Europe.
From wildlife best known is the black bear and the glory of the mountain cliffs of ÄŒvrsnica, chamois (goat-antelope).
Here we also find historical monuments, among which are numerous mounds and medieval tombstones, among which those located in the area of Bare and Poljima stand out.
The mountain adjoining houses are also interesting to see. The famous Croatian outlaw and folk hero Mijat Tomic used to live and travel in these parts of Herzegovina.
The famous Diva Grabovčeva was buried here on Kedžara. She was described in the novels of the famous Croatian writer Ivan Aralica.
Blidinje is now well known and recognized ski resort (Risovac) which has three ski runs; one ski lift and ski lift four-seater.
This Nature Park has become a favorite destination of many visitors from Herzegovina, the whole area of Dalmatia and as well from the Zagreb region.
It is difficult to decide whether ÄŒvrsnica is more beautiful in summer when its freshness soothes heavy and unbearable heat or winter when its splendor bursts so much that it is difficult to look at it; in the spring when the snow gently withdraws from the green flora whose desire for life cannot freeze even by the largest winter frosts or in autumn when the first ices of stress the body.
This is a list of some important places in Blidinje Nature Park:
– Church of Saint Ilija in Masna Luka
– Gallery Masna Luka
– Motel "Hajdučke Vrleti"
– Motel Risovasc
– Motel Park Prirode Blidinje.