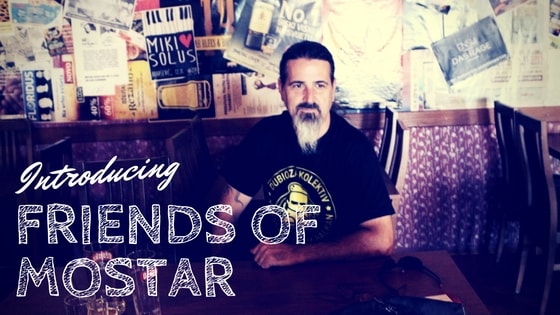 So many times we have heard of the Black Dog Pub in Mostar. Since its opening, this place has become a synonym for having a good time and great atmosphere. Weather it is by recommendation or not, most tourists who visit Mostar find themselves in this small pub situated near one of Mostar`s oldest bridges above the Radobolja river.
Maybe it is because of the good beer, or the friendly host or just the interior, we are sure that all the rhythm comes from above. Today we dedicate this article to the man who we find responsible for all of the great and fun moments that people live through in this pub.
Stephen, with his work this man contributes to the multi ethnic culture, culture and coexistence in the city on the Neretva river.
This long-haired native American came to our country back in 1994 during the war. When asked why and in which way he came to Mostar, Stephen started telling the story about his trip after visiting Croatia. As he states, he came to Mostar beacuse of a challenge. After helping people from both sides during the war, Stephen has hard time to understand the division between people who are all together connected.
By family ties, with love relationship or by neighbor relations, Stephen says that all the people from Mostar today could be bound by one family line and somehow connected no matter what their religion or ethnicity is. During the war and after, as an American firefighter Stephen attracted many donations and food supplies for the people of Mostar.
When asked what keep him still living here, Stephen smiles and says: "Family".
Before the Black Dog Pub, he also owned similar premises at Bajram near the Bristol Hotel.Many foreigners who worked in foreign agencies came to that establishment during and after the war in Mostar. Stephen would find their donations and help from the people who were willing to do small things for the people of Mostar.
The Tour Guide Mostar team spent a quite pleasant hour with Stephen and for that we thank him a lot. The man, who is capable of discussing about deeper life issue, captured us in a sort of nostalgia towards people who we rarely get to chance to meet in Mostar these days.
This was more of a pleasant conversation than an interview for our team.When going into this pub, you will be able to see the ceiling decorated with flags of different countries which leaves a deep sense of peace.
The desire to come back and the possibility of integration among a group of same thinkers under the colors of national flags who dance the same dance called peace.
Under the influence of good beer or not, in the diversity and unity of just a few meters of this pub, the foreigner who defies the time, made this pub a truly unique place.
We all know that the Black Dog Pub is the sort of establishment which you can encounter in many countries, nothing special or maybe worth of mentioning. But what makes this place so special is this man, this friend and citizen of Mostar.
Foreigner or not, this man represents what our parents once called by the name Mostarac.
A great man.