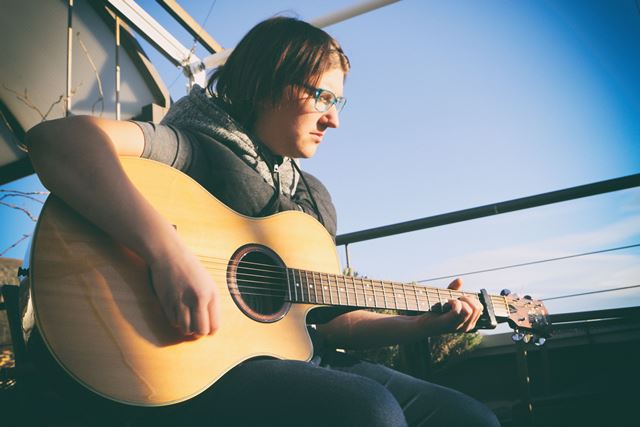 We spent two hours talking with Anita Šunjic in the pleasant atmosphere of the café bar Calamus in Mostar.
First we started the talk with questions that our team had already prepared but with many digressions we touched upon the many interesting topics.
Anita had her first experience with music when she was just five years old. She says that she gradually developed her hearing, learned to play the guitar and learned to write verses. She did not attend any music school, primarily because such schools did not exist when she returned from Serbia, where she lived until 1996.
At the beginning of her music career, in 2006 she joined the band Venus. There she learned to write arrangements, establishes contacts with the media, and learns to play in front of a mass audience because the band traveled all over Bosnia and Herzegovina as well as European countries, such as Slovenia and France.
After the band broke up in 2011, Anita takes a half year break from music.
A year later, slowly but surely she begins her solo career.
After that we discussed about the music scene in Bosnia and Herzegovina.
In her own experience, Anita considers that it is much more difficult to succeed for musicians from Mostar than those from the capital of Sarajevo. Since all of the major media are concentrated in Sarajevo, they often prefer to give news and media space to artists from that area.
Always looking for innovative ways of expressing her opinion and knowledge, from the beginning of this year Anita has launched an internet portal about the music scene in Bosnia and Herzegovina.
She considers this web portal to be an independent outlet that brings all her knowledge of music, music festivals in Bosnia and Herzegovina and provides fast online access to information about music for a variety of media outlets.
Soon we bring the second part of our interview with Anita where talked about the music scene in Bosnia and Herzegovina.