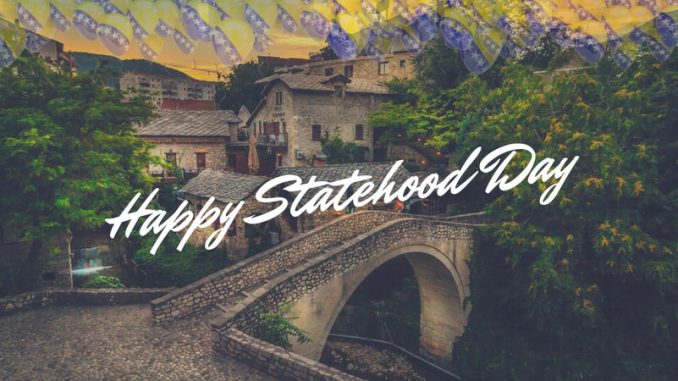 Politicians in Bosnia and Herzegovina have not been able to make an agreement on which important event from the history of Bosnia and Herzegovina should be chosen for commemoration.
How to celebrate than?
In the Federation of Bosnia and Herzegovina, 25 November is celebrated as Statehood Day but not all people of the same state would agree on that date. This date in history is seen by many politicians and people of Bosnia and Herzegovina as essential because on this day in 1943, the Anti-Fascist Council of Bosnia and Herzegovina (ZAVNOBiH) adopted a resolution declaring Bosnia and Herzegovina an equal community of Serbs, Muslims and Croats(what this country is like).
On the other side, the Bosnian Serbs deny the historical importance of resolution from 1943 and believe that this day should be celebrated on November 21st because the  Dayton Peace Agreement was signed on November 21, 1995.
Many people of Bosnia and Herzegovina do not consider the Dayton Agreement as an ideal solution because a separate entity was created under the name Republika Srpska.
The leaders of Republika Srpska, who advocate the commemoration of 21 November, are not in favor of a united BiH, and they see 25 November as a symbol of state unity that undermines their vision of the state.
On the occasion of 25 November 2008, Milorad Dodik, prime minister of Republika Srpska, stated: "The celebration of 25 November is an artificial imposing of a story of an alleged continuity of statehood, which did not exist."
On the other side, the Bosnian Croat Željko Komšić, one of the three members of the State Presidency, stated in 2008, arguing against the Serbs: "The date of signing the Dayton Peace Agreement I consider an important date in the recent history of Bosnia, which should be celebrated in a dignified manner, but 25 November, the date of celebration of ZAVNOBiH, and the decisions reached there, I personally find sacrosanct, inviolable, and the sole National Day of Bosnia."
Common law?
In January 2009, the Bosnia and Herzegovina Ministry of Civil Affairs proposed a common law on holidays that would abolish commemorative days specific to either the Federation or Republika Srpska.
None of the proposed holidays (New Year, May Day, Anti-Fascist Day, International Day Against Violence) would have any connection to specific national affairs within Bosnia.
This proposal, however, met resistance from Bosniak parliamentarians. On 17 July 2009, the Council of Ministers nevertheless made their final decision: Bosnia and Herzegovina shall have only the "international" holidays proposed earlier.
No national day in the real sense was included in their proposal. This decision was again met with criticism from the Bosniaks, since "their" dates were not included either. This proposal has yet to be discussed in Parliament, and it is not likely to be adopted.
So, Bosnia and Herzegovina is still a country without a national day, or, more precisely, with several competing ones.
In front of the Tour Guide Mostar, we can proudly say that no matter the outcome and the historical events we celebrate the sole National Day of Bosnia and Herzegovina when the stability of all people was considered equal.