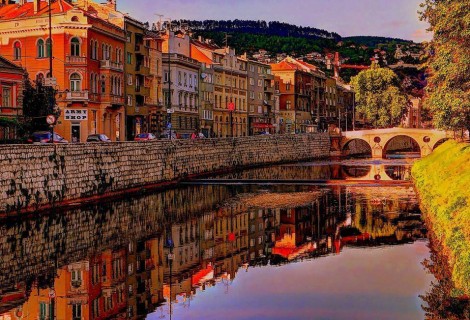 The historic city of Sarajevo is the capital of Bosnia and Herzegovina.
Today, its restored historic center is full of welcoming cafes and good-value lodgings, the bullet holes largely plastered over on the city's curious architectural mixture of Ottoman, Yugoslav and Austro-Hungarian buildings.
Tour Guide Mostar brings four ways on how to easily get around Sarajevo…
On foot
One of Sarajevo`s biggest advantages is its size. This makes it easy to get to most of the places worth visiting on foot. If you are staying in one of the hotels in the center of the old part of the city, almost all of the attractions will be at your fingertips. Another great thing is that most of the streets in Baščaršija are closed off traffic.
Use bicycles
Going around on a bike is getting more and more popular in Sarajevo. Bicycles are available for rent at many locations during the summer. While there are bike lanes in only a few parts of the town, some shopping centers do have designated parking spots for bikes.
Sarajevo city bus
Another great way to see Sarajevo is to take a ride on the Sarajevo city bus. During this 90-minute ride, which allows you to listen to an audio guide in Bosnian, English, German or Turkish, you will get to know Sarajevo`s points of interest. From May to September, the Sarajevo city bus leaves its stop near the Congregational Church of the Holy Mother every day at 12:00 PM and 2:00 PM. Tickets are 5 BAM for adults and 3 BAM for children.
Go with taxi
Sarajevo has one of the cheapest taxi services in Europe. Several private taxi companies operate in the city 24 hours a day. Taxi stands are clearly marked and the starting fare is 1.50 BAM. All vehicles use the taxi meter and the driver will issue a receipt upon request.