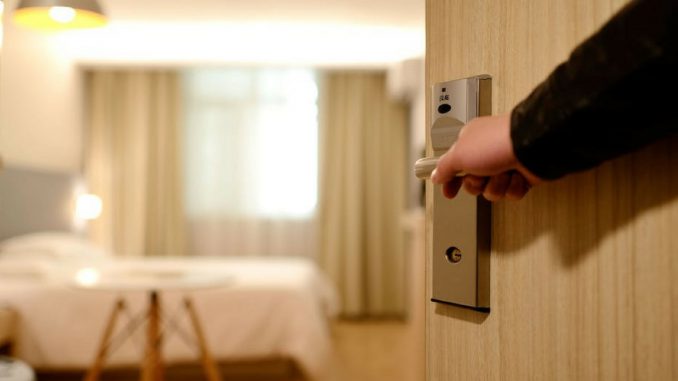 As a tourist, in Mostar, you can see a lot of historic buildings and monuments, try a variety of traditional foods and customs, but also stay in hotels that offer excellent services at very low prices.
Below, we have singled out the top 10 according to guest's bookings:
1 City Hotel is the first hotel that offers modern rooms, a restaurant within the same, shops, bars and car rental services. In addition, there are free Wi-Fi and parking, family rooms (non-smoking) and a fitness center. Price is 83 KM/day, a bus station is only 20 m away. The hotel is rated four stars and a score 9, 2/10 for service and telephone number is 036/ 349 090.
2. Hotel Eden which is located about 450 m away from the famous Old Bridge and offers usage of an indoor pool, cable TV, air-conditioned rooms and a mini bar. According to the data, Hotel Eden has four stars and guests rate it with a score of 9, 3/10, and the price per day is 76 KM. The hotel has 24 rooms that can be booked at number 036/555 390 or at Konak, Mostar 88,000.
3.  Hotel Villa Milas is located on Franciscan 3, 88000 Mostar and boasts a score of 9, 6/10 and with three stars for service and location. The hotel offers comfortable accommodation equipped with bathrooms and meals, and the Old Bridge is only 5 minutes' walk away. If you love history, close to the hotel there are Franciscan Monastery and Church of St. Peter and Paul that are, according to the experience of tourists, among the most visited places in Mostar. You can contact Villa Milas by phone 036/316 381.
. 4 Boutique Hotel Pellegrino boasts guest rating 9.3/10 and with four stars which place it on the list of the best hotels in Mostar. The main characteristic is that it is located only 150 meters from the bus and train station which makes it easy for tourists to come. The hotel offers free internet connection and parking, fitness centre and all 14 rooms are designed for non-smokers, and you can get them at a price of 70 KM per night. Contact phone: 062 969 000.
5. Famous Hotel Mepas which is famous for being the newest hotel completely renovated in 2015 and which offers a variety of benefits such as fitness center, spa, and wellness center, free parking and the Internet. Also, there is a shopping center Mepas Mall in the same building, where you can find anything you need for your taste, from food at McDonald's to the latest fashion trends in the stores. Room price in this modern hotel is 140 KM due to the fact that it has five stars and a rating of 9,4 and booking can be done by calling 036/382 000 or at Kneza Viseslava, Mostar 88,000.
6.  Hotel-Restaurant Kriva Cuprija is located at Onescukova 23, Mostar 88000 with a phone number 061 135 286 where you can book any of the 28 rooms (77 KM / night) that are air-conditioned and fully equipped for the needs of guests. The hotel also offers a mini bar, cable, or the best features are views of the Old Town and the kitchen where you will have the opportunity to try many of the traditional dishes of this people.
7 . Hotel Herzegovina is located at Bisce field bb which offers 26 modern rooms (59 KM/night), parking, restaurant services, free parking, and Internet. Guests have rated this hotel with 9/10, and have deserved four stars for location and offer. The phone number for reservations is 036/ 576 0700.
8. Villa Nadin is popular due to affordable price of 49 KM, but also it's rated with 9.4 / 10. The hotel is 7 minutes' walk away from the bus station and about 6 km from the airport. According to impressions of guests, 'Nadin' is a very popular hotel because it offers much for little money. Reservations can be done by telephone number 036/578 574 or 063 118 918.
9. Villa Hum is located at Franciscan 29 and is available at a number 061 657 638. This is another hotel that is popular among guests because of the low prices for a lot of things- room price is 51 KM and all of them have air conditioning, cable TV, and some also have a balcony.
10. Hotel Bevanda is a hotel located at the site of Old Ilicka bb, which you can contact on the number 036/332 332. The hotel is 10-minutes' walk away from the Old Town and has a restaurant with an outdoor terrace where you can enjoy local and international specialties. Moreover, you can find a supermarket, park, and several clubs and restaurants near the hotel where you can enjoy the real issues of Mostar.