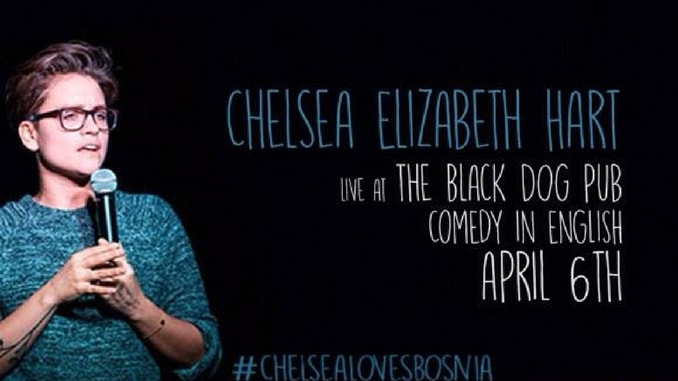 The Black Dog Pub in Mostar welcomes comedy fans for a night filled with good atmosphere,performance and beer.
In case you have missed it, read our previous story about Stephen, the owner of Black Dog Pub who moved from America to live in Mostar.
On Friday, April 7 this place of excellent atmosphere welcomes Chelsea Elizabeth Hart. 
Chelsea is  a young stand up comedian and street performer quickly making a name for herself as an act. She travelled for over a year of that to 30 countries in Europe and the middle east as a street performer.
Chelsea has been a professional street performer for 2 1/2 years, having performed in Germany, Bosnia, Norway, France and the UK. She combines her street smart crowd work and opera voice with relatable observations and anecdotes. She regularly performs with Soho Comedy Club, Monkey Business, Mirth Control, Funny Women, Backyard Comedy Club, Hot Water Comedy Club, and many others!
"Chelsea is a stand up enigma. Combining high brow and comedy in a way not often seen on the circuit. One of the most unique acts around!"
-Christopher Norton Walker
Be sure to visit this show at the Black Dog Pub and make great memories in Mostar!