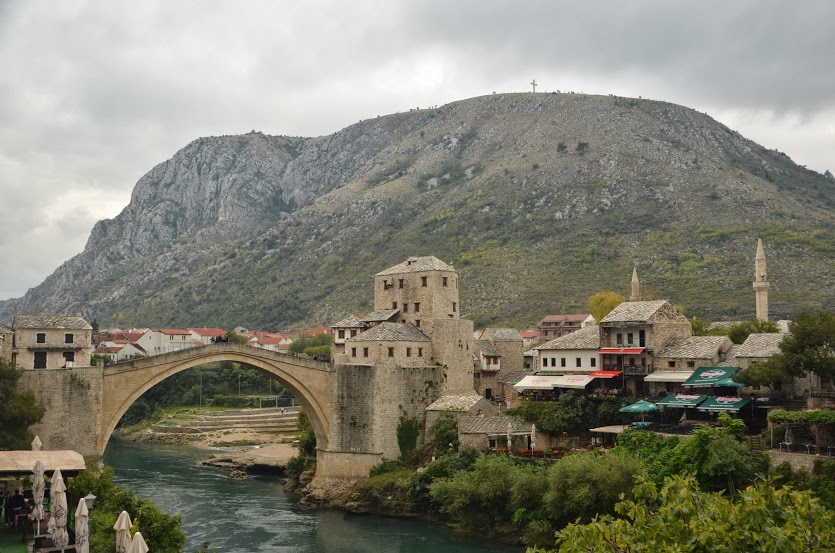 The Hum hill is one of the low hills surrounding the Mostar valley, where lies the city of Mostar (60-80 m of elevation).
The word "hum" detones a lonely and prominent elevation over flood plains, karst fields and plains; this is common in the regions of Dinaric karst.
As well as the city of Mostar, Hum hill is the transitional area where low Herzegovinian karst goes into high mountainous areas. This is where the old trade route from the hinterland crossed the Neretva River and continued towards the sea. In a broader sense, the hill Hum is the ultimate high ground (to the east) of the southeast mountain range of ÄŒabulja.
Alongside the Hum hill, other important hills around Mostar include Brkanovo Brdo, Galac, Orlovac, Mikuljača, Žovnica, Planinica and Fortica.
Together with Brkanovo brdo, the Hum hill rises above the south-western part of the Mostar valley. The road built by Austria-Hungary in 1883, leads across Vukodol towards the Brkanovo brdo and it connected the Brkani village with Mostar.
The river Neretva flows in the east part of the foothill. North from the Hum hill lies the valley of Mostar where the river Radobolja flows north by the hills of Hum.
South of Hum is located the Bišće polje (field) in which most of the industrial zone is situated together with suburbs area.
The position of the Hum hill dominates the central part of Mostar, and offers a great view of the city and the Old Town beneath the mountain. In the north, around the canyon of the Neretva River, mountains Prenj and ÄŒvrsnica are rising, and on the east is the mountain Velez.
A large cross ("Millennium Cross") is situated on the Hum hill. It is 33 meters high and it was built as a symbol of the Jubilee 2000 years of Christianity. The height of 33 meters represents the number of years Jesus had at the time of the crucifixion. The cross is visible from every part of the city of Mostar, as well as from the southern suburbs. Na brdu se nalazi golem križ ("Milenijski križ"), visok 33 metra,
Along the access road leading to the top of the Hum hill, the remains of bunkers from World War II can be seen