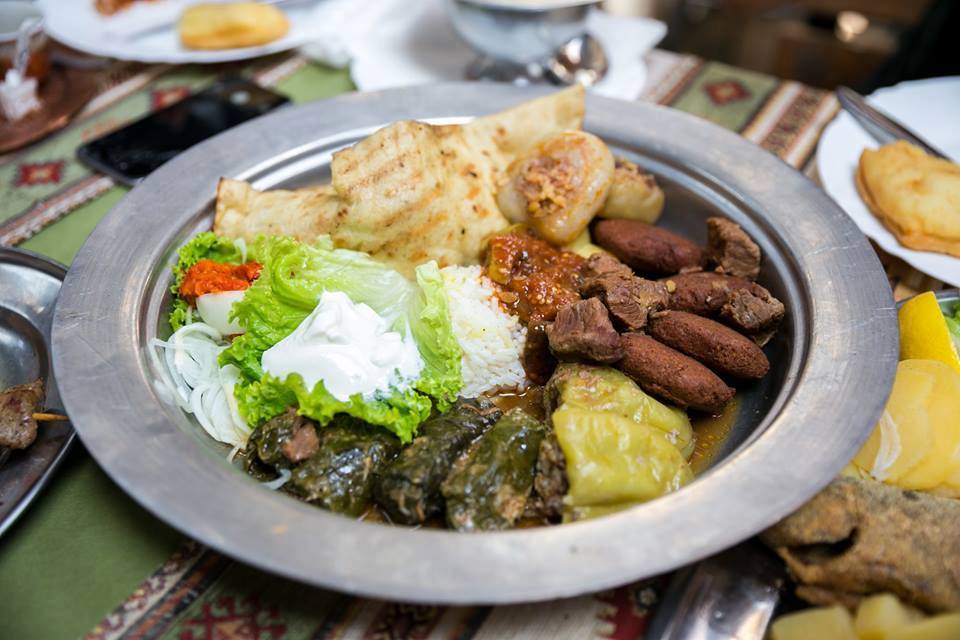 The citizens of Bosnia and Herzegovina truly enjoy the tasty and healthy food and drink.
Balanced between Western and Eastern influences, the traditional cuisine in Bosnia and Herzegovina has meals made of best local meat and organic vegetables, and all meals are plentiful and delicious.
Due to its geographical position and history, Bosnian cuisine is similar to the cuisines of Turkey, Greece, and other Mediterranean countries, but the influence of European cuisines, especially the Central European, is strongly felt.
Most dishes are light, as they are cooked in lots of water; the sauces are fully natural, consisting of little more than the natural juices of the vegetables in the dish. Typical ingredients include tomatoes, potatoes, onions, garlic, bell peppers, cucumbers, carrots, cabbage, mushrooms, spinach, courgette, dried and fresh beans, plums, milk, paprika and cream called pavlaka and kajmak.
Typical meat dishes include primarily beef and lamb. Some local specialties are ćevapi, burek, dolma, sarma, pilav (pilaf), gulaš (goulash), ajvar and a whole range of Eastern sweets.
The best local wines come from Herzegovina where the climate is suitable for growing grapes. Plum or apple rakija, is produced in Bosnia.
In case you have missed it, read our previous article – Most loved Christmas meals in Bosnia and Herzegovina.
Along the roads you will often see restaurants offering lamb on the spit. That is a specialty and a treat for meat lovers. It is sold per kilo and usually is served with roasted potatoes and season salad.
No matter what you order in Bosnia and Herzegovina you will be served bread in almost all cases which is traditionally consumed in large quantities in Bosnia.
Soups are made mostly dense and meat and various vegetables are mandatory ingredients. The soup has many functions. It can be a main dish that is taken for breakfast, especially if the stomach is not ready for another solid dish. The most popular soup is Bey soup (Begova čorba), made of beef and chicken meat combined with vegetables.
In case you have missed it, read our previous article – Bey soup, delicious taste of local cuisine.
Homemade pies are one of the favorite dishes in the whole country. They can be made of various ingredients. The pie made of meat is called burek, the one made of potatoes is called krompirača, cheese pie is called sirnica, pumpkin pie is called tikvara and spinach pie is called zeljanica.
In case you have missed it, read our previous article – Delicious burek, favorite homemade meal in Bosnia and Herzegovina.
Sweet dishes and desserts are tasty and good, because most are made with local products. Traditional sweets from Bosnia and Herzegovina are baklava, kadaif, ružice and tufahije.