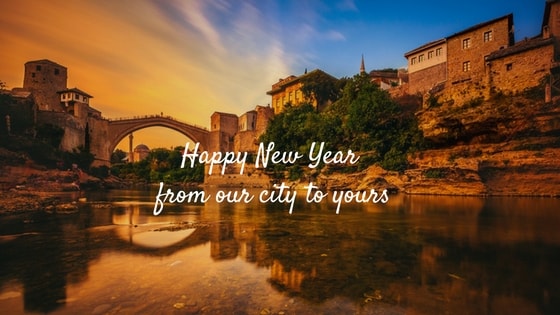 New beginnings, fresh starts, reaffirmations of love and promises for a brighter future all come to mind as we ring in a New Year. There are the superficial, yet purposeful, promises we make to ourselves.
We resolve to get in shape, lose weight, improve career paths, and the like.
Then, there are the heartfelt promises we make to others, whether aloud or in our minds.
We want to care more, express love more, reverse bad feelings in old relationships or seek out new loving relationships. We try our very best to put these desires into words.
Tour Guide Mostar team wishes a happy new year to all of our friends from Mostar and the whole region of Bosnia and Herzegovina. We also never forget all of the travelers from all over the world we had the chance to meet since our journey started.
May all the expectations and goals for each day be fulfilled on the day itself!
This past year has been an exciting journey for our team and we would not be here today without the support of people from Mostar, as well as from bloggers, visitors and travelers from all over the world.
Hold the smile, let the tear go, keep the laugh, lose the pain, look for joy, and abandon the fear.  Happy New Year dear friends!